Mutoh showcases XpertJet range at PacPrint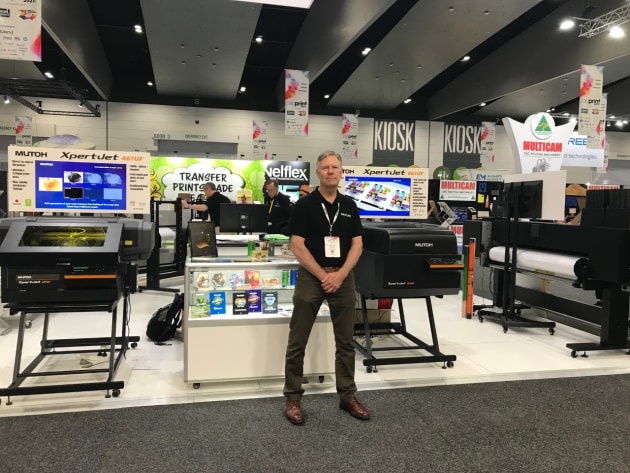 Mutoh, which celebrates 70 years in business this year, used PacPrint to showcase its new and existing XpertJet range, one of which – the 1341SR Pro – was awarded Print21's Hot Pick award on stand.
"We are very proud to receive this award – it's a great little 54 inch eco-solvent printer. With it's small footprint, is only 200mm shorter than the 1.6 meter machines, and weighs 86 kilograms. It has an acu-fine print head and can run along all day at 10, 12 or 15 square meters per hour, at a very high quality," said Russell Cavenagh, general manager of Mutoh Australia, during a walk through of the stand on day two of the show.
The 1341SR Pro is displayed for the first time at an Australian show, with the current model already purchased prior to the show.
Also on show at the Mutoh stand is the XpertJet 1682SR printer, XpertJet 661UF and 461UF multi substrate printers, ValueJet 1638UH Mark II UV-LED hybrid printer and XpertJet 1641SR.
Describing the Xpert Jet 661UF and 461UF multi substrate printers, Cavenagh says, "The the key differences between the two models is that the 61 has an A3 plus print area while the the 661 has A2 plus print area. They both print objects up to 150 mil in depth, and are geared towards the direct to object market as they will print on anything, including good quality ADA certified Braille."
"I literally cannot get enough of these machines. They are extremely popular machines and well priced. They're manufactured in Japan and high quality, low maintenance very easy to operate."
Moving on to the XpertJet dual head XpertJet 1682SR printer, Cavenagh explains that it is 1.6 metre again, this is the successor to what was called the 1638x which was very popular. So the 1682 SR can be configured as either dual CMYK for very quick printing, or it can be configured as light CMYK with orange ink as well," he says, pointing out that most people tend to run with dual CMYK to get the speed yet every now and then the orange ink is needed specifically to print brands such as the FedEx orange.
Another printer highlighted by Cavenagh is the the ValueJet 1638UH Mark II UV-LED hybrid printer, which he says represents the next generation of UV-LED printers and is ideally-suited for the production of high-quality graphics.
Features include staggered dual print heads with UV-LED lamps on both sides for greater productivity, and a Media Thickness Detection Sensor which detects media automatically, and media retainer guides automatically set the position of rigid media.