AUSSIE DSCOOP PRINTERS OPTIMISTIC FOR POST-COVID WORLD
A panel of Australian printers presented to the world at Dscoop, considering the challenges and opportunities of the post-Covid world, on the opening day of the global online HP Indigo users event.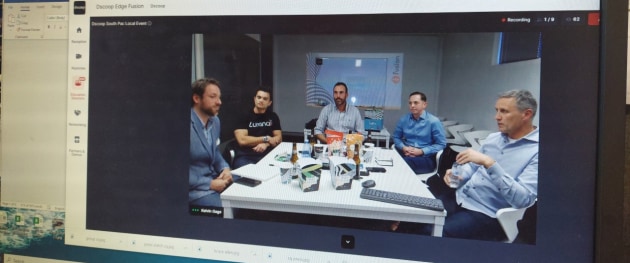 Hosted by Dscoop APJ chair Kelvin Gage, and broadcasting from the Rawson Print Co boardroom in Sydney, the panel comprised printers Andrew Price, managing director of Rawson; Benn Murphy, director of Clarke Murphy Print; Matt Ellis, managing director of Luminar; with Will Currie from HP Indigo supplier to Australia and New Zealand, Currie Group.
All present in the boardroom were optimistic for the future of their businesses and of print post-Covid. All of them highlighted the need to be open to new ideas, to see and take opportunities. All are running businesses that are evolving rapidly, as they seek new opportunities, invest in new technologies, and work hard to get alongside customers.
Gage opened proceedings asking the panel to share their experiences and thoughts on the transition. Murphy recounted how his great-grandfather had a 16-week lead time for print jobs, and if someone phoned to ask him how it was going that would blow out to 20 weeks. He said today 16 hours is more common. He shared how jobs of multiple components were growing, and said that prior to the pandemic CMP was experiencing double digital annual growth.
He said CMP was always open to new ideas, and highlighted the successful Build a Desk and Fan in the Stand initiatives of Covid as examples. The company produced sone 25,000 cardboard fan cutouts in eight weeks. He also highlighted the use of HP Site Flow workflow.
Matt Ellis at Luminar said, "The core of who we are is helping our customers to innovate. It is all about the customer, and helping them solve the challenges they face." Gage asked Ellis how he finds out what those challenges are, with Ellis replying that you have to ask the right questions.
Andrew Price said, "A lot of innovation comes from the customers. Printers need to consider what they are asking, what the real need is, whether it has legs, as we are a capital equipment heavy business." Price said Rawson holds regular blue sky meetings with customers and that they were transitioning into cardboard packaging.
Murphy shared his experiences of Build a Desk and Fan in the Stand in more detail, both of which took them out of their comfort zone into new areas.
Will Currie talked about creating efficiencies in print, particularly around materials handling, and said that warehousing was diminishing as the market increasingly turned to print on demand.
Price said the Rawson experience was that customers were a mixed bag, he would be printing runs of 50, 5000, 100,000, on both digital and offset according to need. Murphy said CMP could print hybrid, giving an example of a million run scratchie job that was printed offset, then printed on the HP Indigo 7900. He also said digital enabled same-day turnaround.
CMP is currently printing about 55-60 per cent of its work offset, with 15 per cent digital and 25 per cent wide format. However, Murphy said digital represented the biggest number of jobs. Price concurred, it is printing about 80/20 offset digital, with packaging "booming". Ellis is printing 85 per cent digital, 15 per cent flexo. He said, "Our HP Indigo 20000 digital print system is giving FMCG's opportunities that simply did not exist before, and they are taking up those opportunities." Ellis said that the idea that digital was just for smaller players was simply not the case, saying, "We have customers with $150m turnovers who are placing new orders for digital every week."
Getting close to customers was seen as key by the panel, Price raised the issue of the tension between customers' marketing and procurement departments, where one wants the lowest price, the other wants a real solution. He said, "Print is not the sexiest subject, it is not shiny and new. One of the biggest challenges is getting into all departments. Ellis said he views himself as the doctor and the customer as the patient, where he addresses their needs, he said, "I am working with three business right now to help create new products with them."
Gage then asked the panel what they thought of as their biggest challenges going forward. Price said, "We are producing a static media in a digital world, that's our challenge. We need to stay up to speed, that is the number one issue this year." Price said educating customers was always a challenge, not only in what printers could achieve for them in providing great solutions to their needs, but also in logistics, he said, "Australia is a big country, getting print to Darwin or Alice Springs overnight isn't simple." Ellis said "keeping debtors reigned in is always a challenge. Keeping in front of customers with great solutions to a changing market is where the opportunity is, for us for instance ready meal pouches, off the back of consumer demand for meal convenience, are really working."
Gage wrapped up the event saying, "Educating customers is both a challenge and an opportunity as we come out of Covid. We know what we are talking about."