LOCKDOWN LATEST: MELBOURNE EXTENDED BY 7 DAYS
The ACT is now in lockdown, Melbourne has had its lockdown extended for another seven days, while Dubbo has joined the regional NSW LGAs in lockdown, which now includes all of of Sydney, the Hunter and Upper Hunter, Armidale, Tamwortth, Byron Bay, and Cairns in Queensland. Printers can still print if they are compliant with Covid restrictions, but NSW police now have the power to close down non-compliant businesses.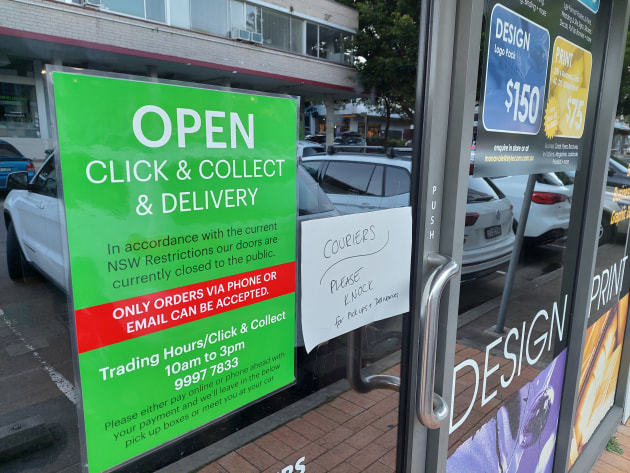 Melbourne is in a further seven day lockdown to next Thursday. Numbers in NSW remain stubbornly high, topping 200 a day, with the premier predicting they will get worse before they get better.
Authorities are pleading with people of all ages to get vaccinated, as a man in his 20s died of the virus in Sydney, and they remain concerned that vaccine hesitancy remains, particularly among the over 70s, with four of the five people who died yesterday having no vaccines, and one having one shot..
There are strict caveats to continue operating your business in lockdown, which are outlined below. In addition the NSW police have just been given extra powers to enable them to close down any business they see as not complying. Police commisioner Mick Fuller said, "The focus will be on businesses that are doing the wrong thing."
Health minister Brad Hazzard emphasised the need for business compliance saying a Covid-safe plan must be implemented and adhered to.
Some 15 million Australians are now in some form of lockdown. Metro Sydney is now in lockdown for at least the next three weeks. As the situation escalates the eight LGAs have the army on the streets to ensure compliance, mainly that people who should be isolating at home are doing that. The eight Sydney LGAs in hard lockdown are now 12, with Penrith, Bayside, Strathfield and Burwood joining those that have been identified as areas of concern..
The 11 SE Queensland LGAs include Brisbane, the Gold Coast, the Sunshine Coast and Ipswich, and will be in lockdown until Sunday. The LGAs cover 3.8 million of the state's 5.1 million residents, and most of the print businesses. The Ekka day state holliday has just been cancelled.
The Hunter and Upper Hunter are now in lockdown for seven days, with the same restricitons as metro Sydney. The LGAs impavcted there are Newcastle, Lake Macquarie, Maitland, Port Stephens, Cessnock, Dungog, Singleton and Muswellbrook.
Victoria is in a snap seven day lockdown, with the premier Dan Andrews waring that if not successful lockdown may last "until Christmas." Glenn Francis, national communications manager at trade printer CMYKhub said, "We're used to it now, we're fully operational under our Covid-safe plan."
Support
Increased financial support is coming for business from both the NSW state government and the federal government. Both NSW and Qld state governments are offering small grants to businesses in lockdown.
Of more use to print businesses will be the news that the treasurer increased the maximum weekly payments to businesses to $100,000 a week from $10,000, based on 40 per cent of the payroll if turnover is down by 30 per cent on the same period two years ago, and providing staff levels are maintained. Staff themselves can now claim $750 a week if their hours have been cut by 20 a week or more. If they have been cut by 8-20 hours they can claim $450. 
VIC & SA
Businesses in Victoria and South Australia do have to abide by strict conditions in order to stay open. The Victoria government has asked businesses to allow staff to work from home where they reasonably can, and wants a maximum 25 per cent capacity in the workplace.
In South Australia the one person maximum for every four square metres still applies, and staff who can work from home should be doing so. Both SA and Victioria continue to mandate the wearing of masks in the workplace, as well as eveywhere else outside the home.
NSW & QLD
In NSW there are three different sets of restrictions; one for regional NSW, one for metro Sydney and the Hunter, and one for what are now eight local government areas (LGAs) within the metro area.

Print businesses in the eight NSW LGAs now in hard lockdown – Fairfield, Liverpool, Canterbury-Bankstown, Cumberland, Blacktown, Parramatta, Georges River, and Campbelltown – can continue to operate, but must not have any staff from any of the other seven locked down areas working for them.
The same restrictions don't appear to apply in the Queensland locked down areas. Those LGA's are Brisbane, Ipswich, Logan City, Moreton Bay, Redlands, Sunshine Coast, Gold Coast, Noosa, Somerset, Lockyer Valley and Scenic Rim.

So for staff movement in the eight Sydney LGAs, for example, a print business located in the Canterbury-Bankstown LGA can have staff working on site who reside in the Canterbury-Bankstown LGA, but they must not have any staff who reside in Fairfield , Liverpool, Blacktown, Parramatta, Goeorges River, Campbelltown and Cumberland LGAs. 
Print businesses elsewhere in Sydney who have staff residing in one of the eight areas are not allowed to have them work in the printshop, with one exception - if the staff are engaged in the production of packaging for food and beverages they are exempt, and are free to travel to wherever their workplace is located, and work there.
Print businesses in the eight locked down areas can also have staff who reside elsewhere in metro Sydney coming into their workplace, those staff are able to come into the print plant, and then leave to go back home outside the LGA at the end of their work. So for instance a worker residing in the Inner West LGA can go to work in Fairfield LGA.
Production staff who live in one of those eight LGAs can only work for a print business in the same LGA, except if they work for a food or beverage labels or packaging printer elsewhere, in which case they can travel to that location. Apart from that they cannot go to work. If they do go to work outside their area for a labels or packaging printer, and live in the Canterbury-Bankstown LGA, they need to take a so-called surveillance test every three days. Production staff who live anywhere else in Sydney can go to work in any location, including the eight LGAs in lockdown.
Essential

Print businesses can continue to manufacture if they consider themselves an essential service, but those in Sydney must not have any staff from those eight locked down LGAs working on site unless they are inthe same LGA, for the next week at least, apart from the exception of printing food and beverage packaging.
In NSW state premiere Gladys Berejiklian has effectively told businesses to decide for themselves if they are essential services, and if they are they can stay open. 

For all printers Walter Kuhn, president of the PVCA said: "A company has to decide if the work they are doing is supporting essential activity. Some of that is easy to affirm - the likes of labels for foodstuffs, Covid-safe floor graphics, flyers for medical centres - other items are not as easy to define."
Most printers are operating under the principle that while they may not be essential service providers, they are provding necessary goods and services to essential services providers, and to other parts of the economy still operating. Kellie Northwood, CEO, The Real Media Collective, said, "Printers are able to work as essential service supply chain providers."
SA and VIC have lists of essential services, NSW does not, but Ines Willox, CEO of employers association Ai Group lambasted calls to create essential services list, saying they were being made by "loudmouth commentators", calling them "misguided" and "ham-fisted".
Police Powers
As cases continue to rise in Sydney the premier has given the police increased powers, which include being able to close down any buinsess they deem to be in non-compliance. Compliance means adhering to the five main caveats listed below. A Perth printer told Print21 that when Perth was in lockkdown two weeks ago the business was visited by police and told to stop printing, unless it was printing Covid related material.
Five Caveats to Print
On the east coast states there are five main caveats for business continuing to print in lockdown. They include allowing staff who can work from home to do just that. So, admin and sales staff should work from home where possible and not be coming into the workplace. NSW has instigated a $10,000 fine for any business that insists staff come to the office who can reasonably work form home.

In addition all staff at work need to wear masks at all times. Social distancing needs to be maintained, which includes the 1.5m rule, and there needs to be a maximum one person for every 4sqm inside.

A Covid-safe plan needs to be implemented, communicated, visible to all, and understood by staff, and any visitors need to be registered through the QR code before entry, and they must also wear masks, and preferably be kept outside the building.

Visiting clients in their workplace is a grey area, but the PVCA urges caution in all respects, and in the current climate few client visits would be happening.
Signs

Sign association Asga advises that in Sydney sign and display installations should not go ahead, except where they are directly Covid-related. It says in Victoria installation can go ahead, both outdoors and indoors, except indoors where the public are allowed, for instance, in supermarkets during opening hours. In that case the installation should take place after closing time. However, installing Covid signage is allowed at any time. Asga does say these guidelines are its considered view.