Arrow enjoying metallic with HP Indigo 7900
Sydney general commercial printer, Arrow Print, installed a fully-optioned HP Indigo 7900 Digital Press just before Covid hit and is now reaping the rewards of its metallic printing ability.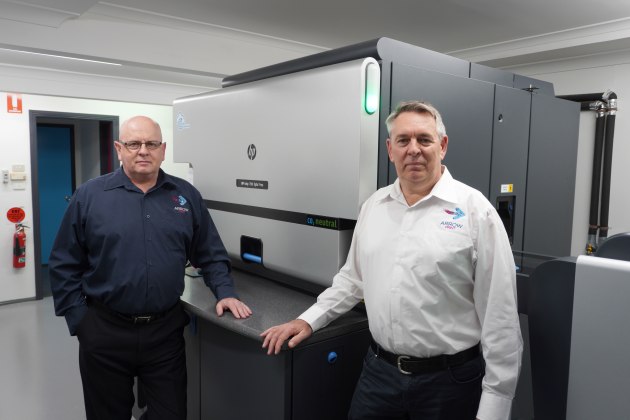 The new press – supplied by Currie Group – came with the silver, white, and emboss options. Joint managing director Stuart Rowe said the silver in particular has gone down well with clients and is leading to new potential market opportunities.
Rowe said: "We can produce virtually any metallic colour we like on the new 7900, we lay down the silver first, then add in the CMYK. The quality of metallic is way out in front of what is available in the digital market.
"The 7900 though is an amazing press all round, its quality, consistency, and productivity are giving us a platform to grow. We have been one of the pioneers with silver, we know how to make it work, the software is impressive."
Like much of the rest of the commercial print industry Arrow put most of its dozen staff on JobKeeper when Covid hit, but Rowe says work is building back up again now. He says the ease of operation of the new HP Indigo has meant that the press has kept running throughout the crisis. "Even when none of our trained staff were here, my brother and I were able to run great jobs on the HP Indigo," he said.
Arrow runs both offset and digital presses, the new 7900 is its third HP Indigo, it began with a 3050, then moved up to a 5500, before buying the new 7900. Rowe said: "Currie Group have always been great to work with, they have installed and serviced all our Indigos."
As a general commercial printer Arrow has to be able to handle a wide variety of work. Rowe said: "We have been using the silver on the HP Indigo for applications like greetings cards and certificates, and we see a big opportunity for it in short run packaging and point of sale, both markets where we could grow into. The print is beautiful, no doubt about that."
Arrow has been operating as Rowe family business for nigh on 50 years, with Stuart and his brother Ian running it for the past quarter of a century.
Phillip Rennell, sales and marketing director at Currie Group said: "Stuart and Ian are passionate about creating a high value service offering for Arrow Print's customers, they have been committed to learning and exploring the best options and used the last HP Dscoop conference to turn ideas into action.
"We are really excited for Arrow Print as they take digital print to the next level."