With inkjet making strides into the digital print world, you could be forgiven for thinking dependable old toner is yesterday's news. Not so, say the big manufacturers, with toner presses still booming – and still innovating. Jake Nelson investigates. 
Whether in dry or liquid form, toner has been a mainstay of the digital printing industry since the beginning – and still is, even as inkjet gains ground. The toner market is healthy, with plenty of names in the game, and manufacturers like Canon, Fuji Xerox, Konica Minolta, Ricoh, and HP Indigo continue to bring out new machines using the tried-and-true technology.
Canon impresses with ImagePress
Canon will release new models in its ImagePress range of tonerbased digital presses this year. In the meantime, its C750 and C850 presses remain the Canon machines of choice for corporate print rooms, commercial printers, in-plant operations, franchise printers and other print service providers.
Capable of printing 85 A4 pages per minute in colour or black and white, the C850 uses Canon's gloss optimisation technology to achieve what it says is offset-like image quality of 2400x2400dpi. The C850 also supports a number of in-line finishing options including stacking, folding, stapling, perfect and ring binding, and saddle-stitching.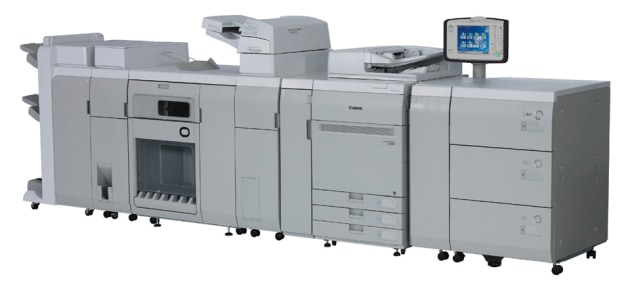 Toby Davis, product manager large format and production at Canon says, "The 750 plays in the light production space, around 75-80 pages per minute, and the 850 is in the mid production area, around 85-90 pages per minute. It is this speed that sets them apart.
"We focus on the light-to-mid colour commercial space. We do have a high-volume machine, the ImagePress C10000. We see good volumes in the light to mid space. It is a healthy segment, in the 70- 90ppm colour range – that is where we are seeing some market stability and volume growth.
"From a workflow management perspective, the ImagePress devices are seamlessly integrated with the versatile Prisma software. The recently released PrismaPrepare version 7 is Canon's next generation of makeready tools. This new version provides features and functionality that are designed to help increase productivity, reduce turnaround times and enhance personalised services. 
"These include a new production workspace, new product configurations and smart and editable automated workflows. Importantly, the new modular structure allows users to customise their configuration for their requirements and significantly reduces the entry cost so even small-print operations can take advantage of PrismaPrepare's core document makeready capabilities." Current customers that have a maintenance agreement are eligible for a free upgrade.
Fuji Xerox continues Iridesse innovation
For Fuji Xerox, one of the most wellknown manufacturers of toner-based presses, dry toner still represents the bulk of its stable. That's according to Roger Labrum, marketing manager for graphics communication services at Fuji Xerox Australia.
"The majority of our product offerings are based on toner; our inkjet is made for high-volume applications such as transactional. We still believe in toner, given its quality output and high resolution.
"Inkjet and all that is coming up, but for the short to mid term we're heavily invested in the toner product. We are committed to R&D in toner-based products and we wi'll keep supporting that vertical from here on in," he says.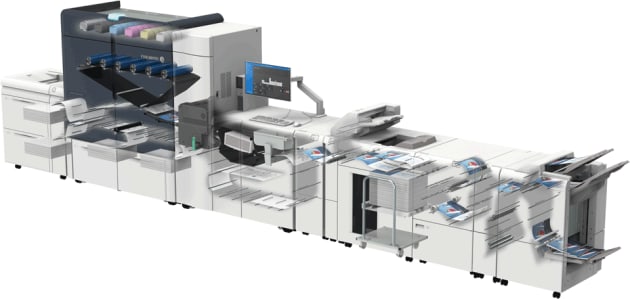 Though the cost to print an inkjet sheet may be cheaper, toner-based presses often have a lower initial capital investment. "Toner is a great middle of-the-road option," says Labrum.
The flagship toner press from Fuji Xerox is the Iridesse, released in 2017 and improved upon since, says Labrum.
"The Fuji Xerox Iridesse is our six-colour press which brings metallics into the mix. There is no other press on the market that can deliver a one-pass six-colour impression including metallic underlays, spot white, and spot clear," he says.
In addition to adding white to the Iridesse, Fuji Xerox reduced the size of the toner particles in its new EA toner so they require less energy to fuse.
"From an energy efficiency point of view it has that advantage over a conventional toner press, and its fine nature improves the image quality," says Labrum.
Iridesse is seeing external improvements as well, according to Labrum. "The Iridesse is also now available with third-party controllers, as well as Plockmatic finishing options," he says.
Fuji Xerox has also invested in automation for print quality and colour management to ensure that every sheet from the first to the 10,000th has excellent colour, says Labrum.
"The devices are also quite clever in that they can detect skew and registration of paper within the machine. We call our system SIQA, or simple image quality adjustment.
"It can be run on a press before a print to ensure integrity throughout the job – colour, registration, all the elements that can make a print job go wrong can be adjusted before the print. That's something available in all presses across our range," he says.
HP Indigo offers presses great and small
Currie Group, the local distributor of HP Indigo liquid toner presses, has solutions for both the bigger and smaller ends of town.
The high-quality, high-volume market is addressed with the the HP Indigo 12000 Digital Press, a B2-sized press with a new high-definition imaging system that Phil Rennell, sales and marketing director at Currie Group, says surpasses offset quality, printing at 1600dpi and 290lpi.
"This is done with a new laser array, which HP has released onto the market. It's not just dots per inch, it's how the screening is done as well.
"We're increasing the addressable dots, and therefore by doing that we can reduce the dot size and increase line screens and thus the resolution," he says.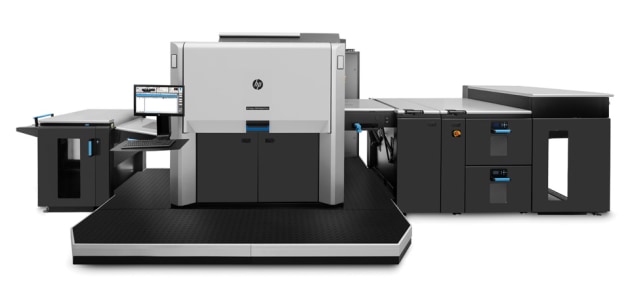 The 12000 is also aimed at conventional printers looking to move into the short-run space, says Rennell. "We see a lot of offset transfer for smaller runs and increasing the utilisation of sheet size – you can create a lot of nice impositions, more than you can on the SRA3 formats, and optimise your sheets," he says.
For printers on a budget, the SRA3-sized HP Indigo 7r digital press is a reconditioned unit that offers a significant step up from older Series Two machines like the HP Indigo 5500.
"We have installed about 10 or 11 of them, which is great, because it allows our customers to upgrade from the original 5500, taking advantage of the higher speeds and productivity the 7r offers.
"As printers grow, that puts strain on the smaller machines, so machines like the 7r can increase productivity at a lower price point," says Rennell.
The 7r is also an eco-friendly option, according to Rennell. "The environmental message is great, we are rebirthing these presses from machines being traded out. They are fully reconditioned, they come out virtually as new, with a full factory warranty," he says.
Lastly, for those seeking more functionality in the SRA3 space, the flagship HP Indigo 7900 digital press is in high demand.
"The 7900 has the full set of option suites and every capability – there are some things the 7r doesn't do, and the 7900 gives those extra functionalities. Customers doing a lot of work on synthetic materials are able to do that with the 7900, for example," says Rennell.
Konica Minolta applies its IQ to automation
Last year, Konica Minolta introduced its new intelligent quality optimiser, the IQ-501. According to Grant Thomas, product marketing manager at Konica Minolta, the IQ-501 reduces setup time by 40 per cent, boosting productivity and saving on labour costs.
"One of the major time-saving automation features it offers is the ability to provide accurate registration and perform front to back adjustment," he says.
"It takes into account any shrinkage in the media – digital stocks do get shrinkage due to the fusing process, but this machine can compensate for it. The IQ-501 hybrid scanning system can do all of this on the fly, including registration and colour."
Increasing automation will be a focus for Konica Minolta in 2019, says Thomas, with an eye to increasing the IQ-501's capabilities while reducing touchpoints.
"The machine will be able to do auto quality adjustment with no operator intervention – if it identifies inferior quality of print, such as lines or bands, it will try to rectify that itself.
"Our auto inspection unit will inspect every sheet to ensure output quality, so the customer is guaranteed that every sheet will have the expected quality from beginning to end," he says.
One compatible machine is the AccurioPress C3080, which won a BLI Pro Pick Award in 2018. "It's an all-around versatile machine that's been awarded for its colour reproduction and its consistency," says Thomas.
Built for the medium to high-volume colour print sector, the C3080 is an 81ppm machine capable of printing on stocks from 62-350gsm. According to Thomas, the press has more than 30 different configurations available.
"A lot of those are for in-line finishing, so the whole job can be produced on the machine with minimum touch points," he says.
At the higher end is the AccurioPress C83hc, KM's third-generation High Chroma colour print system for photography and graphic arts.
"This is a market which needs to reproduce accurately what's seen on the screen. The C83hc produces realistic images in the RGB space as opposed to CMYK – the magenta and cyan toners are different, so it is able to produce a higher RGB colour gamut," says Thomas.
Lastly, Konica Minolta has envelope printing units, which Thomas says Printinghave been taken up by printers in large numbers.
"Our customers can swap in the dedicated envelope fusing unit for envelope printing jobs. For most of our clients that creates another revenue stream printing HQ envelopes," he says. "The envelope fuser expels air to avoid creasing or imperfections."
Ricoh colours its world
Colour has been a focus for Ricoh in its latest toner presses aimed at the graphic arts world: the Pro C7200 and Pro C9200 series. These machines can run a wide range of stock types, weights, and sizes, says Henryk Kraszewski, senior product manager for commercial and industrial print at Ricoh.
"Fundamentally what we're doing is providing evolutionary benefit to printers, expanding the range of finished products they can offer their customers. Printers can run an almost unlimited range of stocks on our machines, including coated, uncoated, textured, synthetic, coloured, envelopes."

The Pro C7200X series can run white toner in a single pass, and also has options for clear toner, neon pink and yellow, and 'invisible red' which fluoresces under UV light, explains Kraszewski.
"The neon colours allow you to add pop to a job or expand the gamut – neon pink plus yellow making a brilliant orange, for example. Invisible red opens up applications in things like security ticketing and posters for events," he says.
Both the C7200 and C9200 series will run long sheet sizes of up to 1260mm simplex, and the C7200 series can handle 700mm duplex.
"This means it can create A4 landscape or six-panel A4 jobs. The Pro C9200 series will take it a little bit further, with auto duplex up to 1030mm – for eight-panel jobs – and will run stock up to 470gsm or 600 microns. That takes it almost into the packaging space, with stock of that thickness," says Kraszewski.
At the entry level, Ricoh has also launched its Pro 5200S series – which can still compete with the big boys, says Kraszewski.
"It still has a huge range of capabilities. They all have great image quality and stock compatibility," he says. "The Pro C5200S series can also run a huge variety of applications, it just takes a little more time and effort. Even at the entry level, you can run a virtually unlimited stock range."
Investing to impress
It is clear that the manufacturers of digital toner based printing systems are investing as strongly as ever to deliver impressive print production power to the market, with printers the beneficiaries of the increasing functionality and quality of the latest generation.