Finsbury Green installs new Konica Minolta C14000
Finsbury Green has installed a new Konica Minolta AccurioPress C14000 digital colour printer, with inline finishing and automated colour control.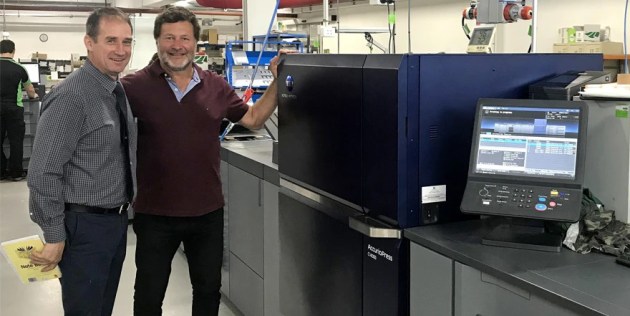 The new AccurioPress is Konica Minolta's topline model and was released less than a year ago. It prints at 140 sheets a minute and will print longer sheet sizes, including six-page A4 inline, with the new TU-510 finishing option, plus banners.
Chris Monteleone, direct mail production manager, Finsbury Green, said, "Covid-19 didn't do the business any favours, given print is already challenged. Inline finishing was important to us because it offered the ability to complete the job in a single pass. By removing multiple offline processing, we reduce our labour costs and become more competitive."
Mark Orel, executive director, Finsbury Green, said, "It's important for Finsbury Green to choose the right technology and partners to maintain business continuity and deliver environmental sustainability commitments into the future."
The C14000 with the finishing options selected for Finsbury Green lets it complete saddle stitching with top, bottom and fore-edge trimming; scored pages and square form spine up to 200 pages/500 sheets; perfect bound books up to 300 sheets or 600 images; SRA3 sheets trimmed down to A4, A5 and DL; and business cards with full bleed with reliably high quality.
Monteleone said, "Once the paper catalogue is set up and the reference stock is chosen, it only takes 10 minutes to get the press running for the entire day. Our previous press took much longer than that."
The Intelligent Quality Optimiser (IQ-501) for automated colour control and registration accuracy was also attractive to Finsbury Green because it required less operator intervention.
Being able to transfer the finishing equipment from the C14000 to Finsbury Green's mono printer was another strong reason for choosing the solution. This complements the business's print-on-demand, direct mail offering.