Fuji Xerox becomes Fujifilm Business Innovation
Digital solutions supplier Fuji Xerox is now Fujifilm Business Innovation, with the company saying it will focus on solutions and services in a beyond-the-box strategy, and will leverage the massive R+D capabilities of its parent company to bring benefits to printers.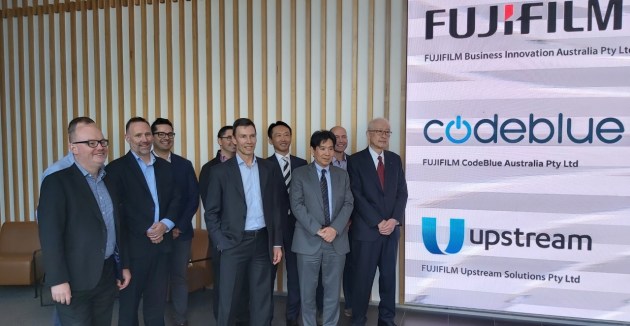 An indigenous smoking ceremony at its Maquarie Park HQ marked the beginning of the new business, which local managing director Takayuki Togo said, "Is much more than a name change."

Fujifilm Business Innovation (FFBI) is a wholly owned division of  Fujifilm Corporation. It is a separate entity, and in ANZ operates from separate premises, the Austrralian HQ a few blocks from Fujifilm's head offices in Maquarie Park, NSW.
Ken Sugiyama, corporate vice president of FFBI said, "This is one of the most important and exciting changes in our company's history."

Speaking to Print21 at the event to mrk the new beginning Sugiyama-san said that, "95 per cent of the graphic arts products that had been sold by Fuji Xerox were already manufactured in Japan", including, for print businesses, the best selling Iridesse and Versant series digital presses.
Tony O'Çonnor, chief sales officer at FFBI said, "We are the dominant player in digital print solutions. Our strategy of services and solutions will enable us to maintain our leading position to print businesses. We are positioned to work with our customers on digital transformation in all aspects of their businesses."
In addition to its own print solutions - all of which will continue to be available - FFBI will also now be supplying the entire Fujifilm graphic arts product line, including the Acuity and Vybrant wide format printers, and the sheetfed inkjet B2 JetPress.

The company said the rebrand also signifies an acceleration of solutions and services that build on technologies related to the cloud, artificial intelligence, and the internet of things. Sugiyama-san said that Fujifilm was already advancing strongly in those technologies in fields such as biopharma, functional electronics, optics, and medical - where it is developing predictive diagnostics for cancer - and he said it was only a matter of time before the technologies developed came into print.

As Fujifilm Business Innovation the company will continue to offer its core printing and document technologies and services, and an expanding portfolio of enterprise software solutions, managed print services, creative print, mail services, and IT services.
FFBI managing director Togo-san quipped that after 34 years with one company it was an "exciting day" to be starting work for a new one, he said, "It is a new era, with a new focus, but the first priority remains the same, on the customer."

Parent company Fujifilm was established in 1934, and now has 74,000 staff working in 300 subsidiary companies around the world.
The smoking ceremony was hosted by Uncle Dave Barnett (pictured right) who welcomed the company and the crowd with indigenous singing, dancing and the sweet scented smoking gum leaves. Click here for the welcome dance video: 20210401_112430.mp4