Fujifilm themes 'Welcome Change' at PacPrint
Transformative thinking and a broad spectrum of innovative technology to help businesses 'Welcome Change' will be Fujifilm's driving theme at PacPrint.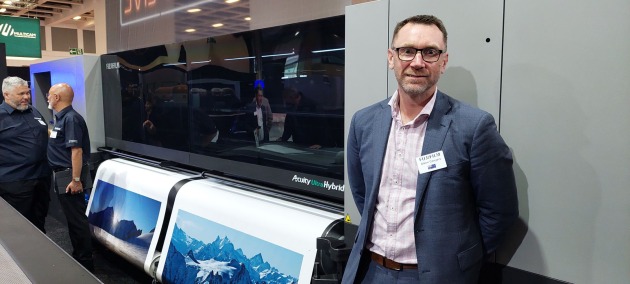 Fujifilm Business Innovation Australia and Fujifilm Australia have confirmed that they will be coming together at stand G14 to showcase solutions that enable print businesses to automate, streamline and prosper in the changed world of print and work.
"The world's changed and so have we. As market leaders, we want to lead by example and help our customers prosper in this new print landscape. To keep our customers ahead of changing times, at PacPrint with Fujifilm Australia, we will be showcasing our combined portfolio of industry-leading technology that spans across every need," says Chris Lynch, GM, Graphic Communication Services at Fujifilm Business Innovation Australia.
"We will also have our team of change experts on-stand ready to demonstrate solutions to help our customers grow. So, when you visit us, expect a friendly and informative welcome."
Lynch says that Fujifilm stand at PacPrint, which will come together with Fujifilm Business Innovation Australia, is designed to help customers navigate through the changing print environment and discover opportunities to help grow their business.
"The stand will show how Fujifilm as a group can help customers adapt and 'Welcome Change', to help them win new business, cut costs, expand into new growth markets, and generate bigger margins, says Tony van Broekhuizen, GM, Graphic Systems at Fujifilm Australia.
Bringing to life the promise of 'Welcome Change' will be the following on-stand solutions and experiences:
Equipment:
Revoria PressTM PC1120: Six stations combine for "striking "colour combinations, including a wide range of metallic colours and natural skin textures. The Revoria PressTM PC1120 is backed by AI- powered productivity, so you can produce "a diverse range of applications, and complicated jobs with ease". 
Acuity Ultra R2: A high-quality, high productivity super-wide platform, using Fujifilm's "renowned" Uvijet UV inks and available in LED and Mercury curing configurations. The Acuity Ultra R2 is designed with specialist inks to support the printing of near-photographic interior graphics and high-speed printing for banners and PVC signage. 
Acuity Prime: The Acuity Prime is a "true flatbed printer with outstanding image quality and excellent adhesion to a broad range of rigid and flexible media". All supported by its five dedicated vacuum zones and jettable primer. 
ApeosPro C810/C750/C650 Printer: The ApeosPro is a hybrid printer, "meaning not only will it ace your creative, it will still print all your office documents like invoices, letterheads, and templates. Print beautiful pictures, corporate colours, and logos - over and over again with perfect colour accuracy and consistency". 
Versant 3100i and 180i Press: Fast, efficient, modular technology with the ability to scale. The Versant i series makes light work of heavy stocks and longer sizes with the Air Suction Feeder. "Cut pre-press time and lift efficiency with the GX Print Server and Automated Colour Quality Suite. Solutions"
Workflow Automation (powered by FreeFlow Core): A browser-based solution that intelligently automates the processing of jobs, from file preparation to final production. 
Web-to-print and Cross-Media Marketing Services (powered by XMPie and Aleyant Pressero): A suite of software solutions and integrated cross-media marketing platform, allowing customers to create and manage online web-to-print storefronts and marketing portals. 
Color Management (powered by Oris Lynx colour management tool): Technology, software, and training to "accurately and consistently achieve the highest quality in colour output:
Seminars:
A range of 'Welcome Change' Seminars will be hosted in the on-stand theatre throughout the show. These "thought-provoking" seminars will cover a range of future-focused topics, including 'The relevance of print in a post-pandemic world', 'New Blueprint for Wide Format', 'Digital print and CMYK+. Value selling in a disruptive market', and more. Visit www.fujifilm.com/fbau/en/welcome-change-at-PacPrint to view the full schedule and register.
On-stand networking:
Fujifilm will also be hosting on-stand networking drinks and canapés from 5 - 6:30 pm on Tuesday 28 June, Wednesday 29 June, and Thursday 30 June. Visit the Fujifilm team at stand G14 for light refreshments and big experiences.