Glory automates with new Horizon perfect binder
Sydney based Glory Printing is seeing a significant upswing in its productivity, with the installation of a new Horizon BQ-270 perfect binding system.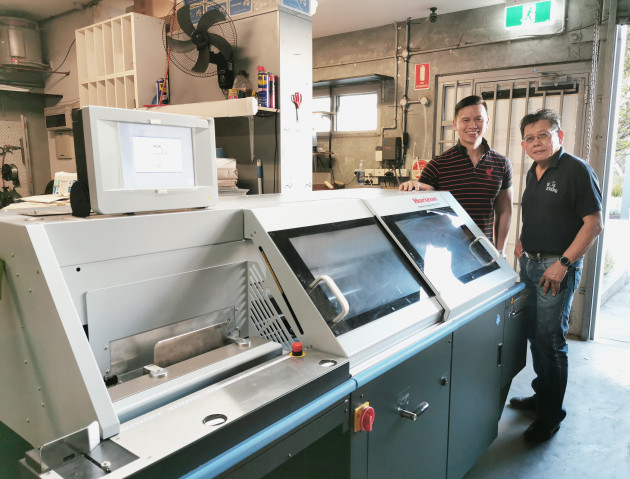 Located opposite one of Australia's largest universities, UNSW, the company has carved out a niche in producing bound theses for written work, and design portfolios for the art students. Prior to the arrival of the new Horizon BQ-270 – supplied by Currie Group – Glory Printing was producing much of the work by hand, and with 50,000 students on campus, that was a lot of handwork.
Owner of the business Pang Gunawan said: "We did have a couple of machines that did part of the job, but it was a long and laborious affair. Now with the Horizon BQ-270 we are producing the work in a fraction of the time, and with a fraction of the labour. We have gone from taking three days to produce 100, to being able to produce 500 in one day. It is so straightforward to learn and to use. We should have bought it years ago."
The new perfect binder sits in the company's factory in nearby Banksmeadow. Gunawan said: "It has proved a real boon to the business, with its large range of products it can work with, we are expanding our market. The precision is impressive, the quality level has been raised for sure."
The business has begun adding to its product range since the installation of the BQ-270, Gunawan said: "We have produced some short run books. Whereas with our previous set-up we were not that confident about going to market, now with the BQ-270 we are completely confident that it will handle anything that comes its way."
Gunawan researched the market before opting for the Horizon. He said: "I have had a relationship with the Horizon supplier Currie Group for 30 years. It was important to me to deal with a company I knew would be committed to me, and which will be around in the future.
"The BQ-270 stood out for its flexibility, precision engineering and productivity. I am 100 per cent sure the right decision has been made. We have been happy with Currie Group, the installation, training, service, the whole process has been professional."
Will Currie, NSW account manager, Currie Group  said "Glory Printing has a remarkable business,  and we have forged a great relationship over time.
"In looking at the business requirements, we trialled several ideas of the correct binding set up, with what types of books they would be finishing, life cycle of the product, and time to market.
"The solution became clear - that the Horizon BQ-270, accompanied by Planamelt glue supplied by Currie Group, was the perfect combination for its needs."
In a classic entrepreneur's tale, Gunawan started the business in 1993 in his garage, then bought the shop on Anzac Parade opposite UNSW two years later, beginning as a one-man band, selling in the daytime and printing in the evening. His commitment to customer service saw the business grow, with eight staff and casuals now employed, and the factory in nearby Banksmeadow purchased to supply the shop.
His wife Esther and eldest daughter Susan work in the business, along with the general manager of the business – daughter Stephanie Lumanauw – with her husband Rav, who is also on board. She said: "I have been exposed to the business all my life, and started helping out, before progressing through the rungs. Glory Printing trades on its reputation for quality, efficiency and service, which we will be striving to maintain."
Serving the student population is a key part of the Glory business. Lumanauw said: "When those students progress and enter the workforce many remember the work that Glory Printing did for them and come back. It is all about relationship building. That is where a large part of our business comes from, those students may not even be working in Sydney anymore, but they continue to send their work here, because they know we are committed to providing high quality products and services.
While Covid has knocked the number of students coming into UNSW it hasn't knocked the confidence of Gunawan and his family to produce high quality print for their customers, a confidence that has been boosted with the arrival of the Horizon BQ-270.
Glory Printing can be seen online at its instagram gloryprintingau, or on its website www.gloryprinting.com.au.