Heidelberg sells 1000th Speedmaster CX104 unit
Heidelberg has sold the 1000th unit of its new universal press the Speedmaster CX104, less than six months after its launch, as the company rides surging demand from offset printers in the post-Covid world.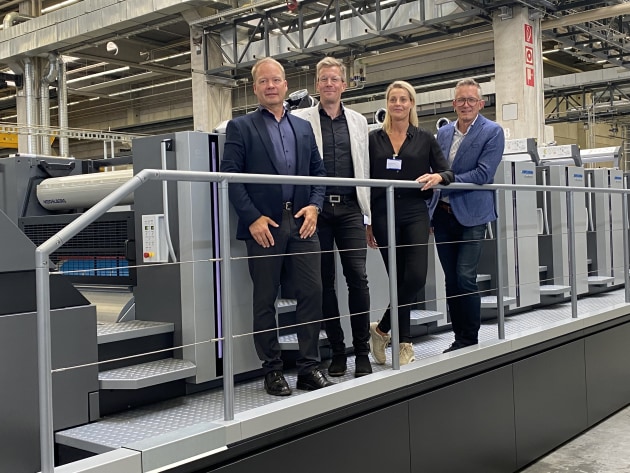 The first CX104 for Australia is currently being installed at Printcraft in Brisbane, with a second scheduled to go into a Victorian printer.

The 1000th CX104 unit comes as Heidelberg reports that half-year incoming orders are up 44 per cent on previous year at €1.25bn, while sales have climbed by 22 per cent to €983m.

Heidelberg's order backlog of €886m exceeds its pre-crisis level, while its half year EBITDA of €75m is a significant operational improvement. Its corresponding result last year was €67m, but this was helped by one off inputs of €73m from a pension restructure and €8m from a business unit sale.

Speaking to Print21 at its recent Innovation Days event Heidelberg CEO Rainer Hunsdorfer said the company is seeing orders and investments in its print solutions from "all over the world" with printers "looking to invest in new products" on the back of "market recovery everywhere" from the impact of Covid. 
Local CEO Savas Mystakidis says Heidelberg ANZ has sold 11 presses in the last 12 months.

The Swedish packaging printer Gafs Kartong is set to take delivery of the 1000th printing unit of the new Speedmaster CX 104 that Heidelberg unveiled in June. Founded as a packaging board supplier in 1947, Gafs now has a 22-strong workforce and generates sales of €4m. The Speedmaster CX 104-6+L with newly developed coating unit in the Push to Stop configuration will be supplied with a Suprasetter 106 platesetter and will arrive before Christmas.

"Our new universal press, the Speedmaster CX 104, is proving to be a big hit on the market," says Stefan Hasenzahl, head of Product Management at Heidelberg. "Even before the global market launch this summer, we had orders for over 500 printing units – a figure we've doubled," he adds.

Gafs, which produces folding cartons primarily for Swedish customers from a range of different industries, is complementing its investment in equipment with a Subscription Smart contract that includes the supply of all consumables and software over a period of several years. Gafs will also be using Prinect Production Manager, which covers all the key functions for packaging printing.

One example is a CAD-based solution that ensures quick and easy impositioning and also includes all typical packaging marks. The Prinect workflow provides all data that is relevant for production, and according to Heidelberg, ensuring reliable production and repeat jobs of a consistently high quality. Production data feedback gives Prinect a full overview of performance at all times.