HEIDELBERG UNVEILS NEW VERSAFIRES
Heidelberg has launched two new Versafire SRA3 digital colour print systems, the LP and the LV, which it says have been systematically enhanced since the previous models.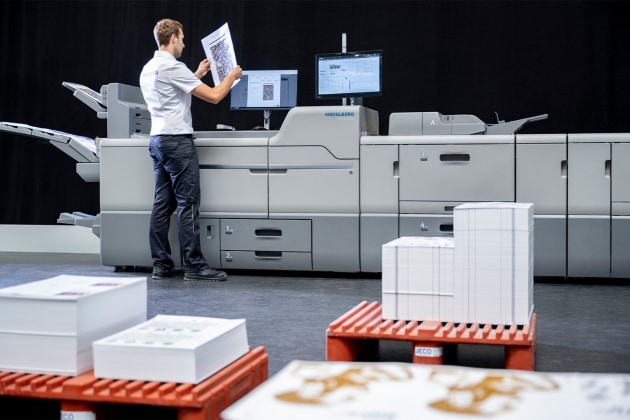 The new Versafires use the two newly launched Ricoh print engines, the Pro C9500 and Pro C7500, married with Heidelberg's Prinect Digital Frontend.

The presses are designed to run as part of an integrated print room with the company's offset presses. Heidelberg says it has made end-to-end consistent colour management "a particular focal point" in hybrid print production, and says that by ensuring a "far simpler operation" at this particular key point in the process, the company is addressing the skills shortage in the industry.

Dr Ludwin Monz, CEO, Heidelberg, said, "Our integrated solutions are a must for anyone who is looking to combine offset and digital printing and use them efficiently in tandem. That's because Heidelberg has comprehensive process and application knowledge relating to both these printing methods."

Both the LP and LV have a resolution of 2,400x4,800dpi, and come with automatic inline registration, calibration, and colour control. Toner and paper can be replaced while the machine is running, for non-stop operation.

The Versafire LP is aimed at cost-effective production of larger volumes and/or lots of short runs, running at up to a million clicks each month, printing at 4,500sph in A3, or 8,100 at A4. It runs in CMYK, prints sheets up to 1,030x330mm in duplex, and banners up to 1,260mm in simplex, in stock weights up to 470gsm.

The Versafire LV has the possibility of a fifth inking unit and a choice of seven spot colours, Heidelberg says this makes it the flexible solution for wide-ranging applications in short-run printing. Print speed is 3,180sph in A3, or 5,700sph for A4.

The Prinect Digital Frontend software solution was developed in-house by Heidelberg. The second generation that has now been unveiled is the centerpiece of the new Versafire systems and supports the standardisation of print shop production. All steps, from job creation and preflight checking through to colour management and impositioning, can be automated and pre-costed. Based on the "two printing processes – one workflow technology" principle, the DFE provides the basic software for the integration of offset and digital printing into a single workflow.