Left Bank Art Group grows with HP Latex R-Series flatbed printers
Discover how the HP Latex R-Series enabled fine art printer Left Bank Art Group to print on a variety of substrates and expand their business.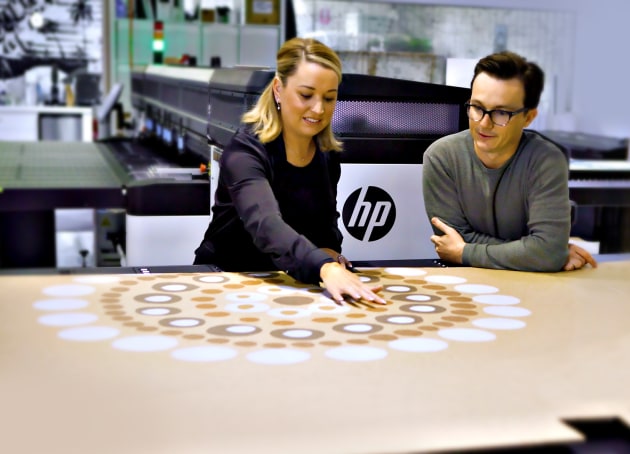 With more than 30 years of experience in fine art printing, Left Bank Art Group has built a name for itself in Australia for presenting art in its finest form and pushing the boundaries using innovative technology. They work with local artists and interior designers to reproduce their creations and also provide customised packaging for their clients.
Overcoming Challenges

As the business expanded over the years, the company came across a few challenges. Toby Simm, Director and Owner at Left Bank Art Group, Southport shares, "The main challenge in our business was to make sure that the costs are kept low, and turnaround times are fast."
Partnering with HP has helped them to overcome these hurdles. Besides expanding into new segments, they also collaborate with artists to reproduce their art on a variety of substrates that exceed clients' expectations.
Left Bank has invested in HP Latex R2000 Plus Printer to produce superior-quality prints and has risen to become one of the top players in the industry. Sim says, "We are now becoming known nationally as the pinnacle of art print quality. The colours that R-Series produces…I have never seen anything like it before. Investing in this printer has been the best thing for our business. The first print of this machine was our logo on a piece of plywood. The sharpness of the reproduction was incredible. I knew I had made the right decision that very moment," he adds.
Seizing opportunities with the HP Latex White Ink

HP Latex R-Series has enabled the company to break into new territories and offer improved applications to artists across the country. "The HP Latex R-Series is doing what the UV solvent printers didn't do. We can print on wood, glass, tiles; and the results are always sharp and high-resolution. We can now offer vivid colours and sharper details," says Toby.
Accurate colour reproduction of original art and other products has also given them a competitive advantage. He adds, "The opacity of the White Ink is amazing. You can print on just about anything. We can now also offer new products such as wallpapers and leather chairs for interior design — something that no other business in the local market can do. We also offer personalisation for packaging to our artists to create a more customised experience."
Pushing boundaries with higher productivity

The company has been able to reduce the production time to half. The HP R-Series printer has automated several manual processes and helped to save on materials and reduce waste — all amidst the ongoing pandemic. In Toby's words — "We can print directly onto our substrates and achieve more vibrant colours at higher speed (40sqm/h vs >10sqm/h before). With the HP Latex R-Series, we now print twice as fast, and the quality lasts much longer."
Printing while protecting the environment

Left Bank Art Group stays committed to protecting the planet and makes a point to adopt sustainable business practices wherever possible. Toby explains, "With the water-based inks, the whole printing cycle is odourless. It is much safer for our employees and our customers. I know that what I'm providing my customers can't harm them or the environment. This is a huge bonus point for me."
Future with HP

The investment has paid off quite well, and the company now looks forward to a brighter future. "With the HP R-Series, we can think outside the box with our artists. We are excited to be working with them on creative projects such as printing on booths, tiles, chairs and even vegan leather. Our company wouldn't be probably here without the support from HP's staff in growing our business. Our relationship with HP goes beyond training on the new possibilities around the printer. It is based on mutual trust, and an ongoing relationship," sums up Toby as he gets ready to oversee a new print job.