Prima invests in Kolbus as growth surges
Prima Printing has invested in one of Australia's first Kolbus DA 270 Casemakers, as part of a sizeable investment in capacity and efficiency for personalised photobooks, as it continues to achieve record growth.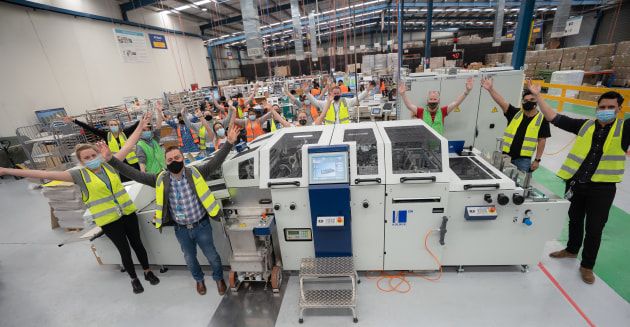 Since establishing itself in 2016 Prima Printing – based in Melbourne – says it has grown to become the largest consumer print manufacturer in the southern hemisphere.

To support its growth and meet demand in the market, it has now invested in a Kolbus DA270 Case Maker, one of the first to enter Australia. Prima says the DA270 provides the capacity to deal with "huge volumes and high variability" in book sizes and spine widths.

Prima believes this will enable the business to gain significant competitive advantage in the consumer printing space, as it looks to further grow its business.

A major consideration for Prima was speed and ability to handle variable page count books with minimal make ready time. The Kolbus DA270 outputs 60 cases per minute.

Amnon Judah, general manager at Prima said, "We had been making books using many smaller manual casemakers before, but the volumes have increased as have the demands for quality, whether its photo finishing or commercial print, that we needed to scale up further.

"We are always evolving, exploring new machinery and investing in our people. We look for hungry, innovative and adaptable team members, which we believe has been the key to our success and has enabled us to achieve the best outcome for our customers", said Amnon.

In a year that has seen many businesses impacted by Covid-19 Prima has seen continued growth, and is on track for its best year yet. With the increased capacity, Prima says it has big plans for 2021, as it looks to expand on existing global relationships, and engage with those in the Australian photo product market.

The District Photo group of which Prima is a part has become a significant global supplier in the photo product market. The group has four facilities located across the USA , and has Harrier LLC servicing all of UK and Europe. Its expansion into ANZ via Prima Printing has allowed it to now service Australia, New Zealand and Asia from its Noble Park facility.

Last year Prima bought eight new Ricoh digital colour print systems for the site. Its entire manufacturing process is controlled by a bespoke ERP solution that integrates with customers' e-commerce sites, then batches, imposes and routes it to the Ricoh fleet, based on job profiles and availability, and then on to finishing and binding.

Prima Printing manufactures to tight schedules, with peak volumes occurring at Christmas, Mother's Day, Father's Day and Valentine's Day. As a result, it has configured its facility in Melbourne's Noble Park North to meet the demands of those peak periods. It has an end-to-end manufacturing capability that enables it to produce millions of personalised consumer items each year.