Printcraft boosts production with new HP Indigo 7K
Leading Brisbane-based operation Printcraft has installed a new HP Indigo 7K Digital Press, supplied by Currie Group, in order to boost its production power.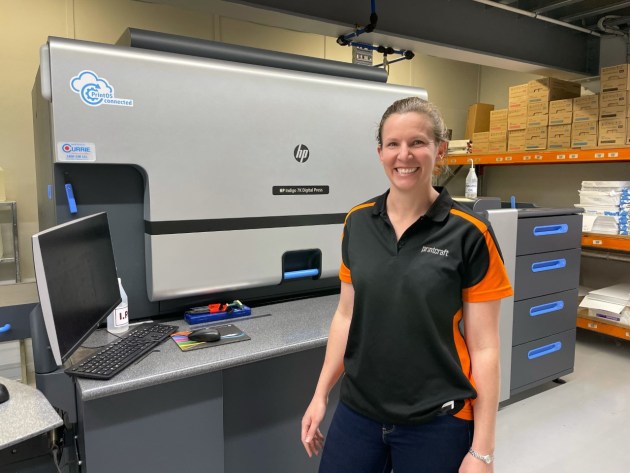 The new HP Indigo succeeds the company's existing HP Indigo, with the business also installing its second Horizon CRF-362 Creaser Folder.
Ann Doljanin, digital manager at Printcraft said: "We are seeing an increase in run lengths for our digital work, and we also wanted to ensure we could provide our customers with the latest technology."
Printcraft produces a wide range of work on its HP Indigo, including brochures, direct mailers, personalised work, and marketing collateral. Run lengths can be significant, Doljanin said: "We currently have a job going through that is 22,000 sheets, made up of multiple kinds."
The HP Indigo 7K will sit in Printcraft's digital production space, with the company running both toner and HP Indigo, as well as offset presses, from its new consolidated factory in Hamilton.
Doljanin said: "The HP Indigo is our preferred machine for high quality work. When it came to upgrading our equipment and investing in a new press there was no question about the fact we would be sticking with an Indigo. We find the colour reproduction and image quality is particularly strong on uncoated stocks, as the Indigo is without the limitations that other technologies may have. Some of our clients specify their work is to printed on an Indigo, and the reasons why are obvious."
Printcraft is now one of the biggest print businesses in Queensland, with 80 staff on double shift operation for the business, which bought Fergies Print + Mail three years ago.
Michael Mostyn, Queensland sales account manager for Currie Group said: "In consultation with the team at Printcraft we explored a range of options within the HP Indigo portfolio in order to ensure we get the right fit.
"The HP Indigo 7K was the solution to provide Printcraft the runway for growth with increased productivity, quality and consistency, and with the broadest range of applications needed, not only for the demands of today, but for tomorrow as well.
"And since the first Horizon CRF-362 creaser/folder was installed the workload has increased significantly, the second Horizon CRF-362 unit will enable Printcraft to once again reliably load balance in production."
The new HP Indigo 7K installed at Printcraft supersedes the 7000 series, was part of the new fleet launched by HP for drupa a year ago. It is a 19-inch (SRA3+) digital press that offers a broader range of high-value digital applications, with a media gamut up to 550 microns, running at 120 or 160 A4 pages a minute. It also has 20 special inks such as HP Indigo ElectroInk Silver, high opacity Premium White, and Invisible Yellow for security or other applications.