RMGT partners with GEW for LED UV
Sheetfed offset press manufacturer, RMGT (formerly Ryobi), is partnering with GEW and using its LeoLED system as its factory-fitted UV curing solution for new sheetfed offset machines, with immediate effect.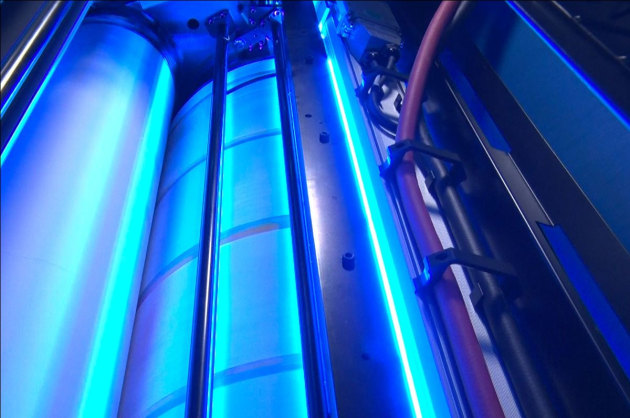 The GEW LeoLED UV Lamphead is water-cooled with a compact 40mm x 100mm profile, and can be customised to seamlessly integrate into any sheetfed press.
RMGT claims to have pioneered UV LED technology, and introduced the world's first LED curing system for sheetfed printing back in 2008 at drupa. This original innovation started a slow revolution for the printing industry, one that is now gathering an ever-increasing pace.
GEW is well known for its established, global dominance in the label and narrow web arena, where it has been operating for 30 years. The 2019 introduction of GEW's compact, high-performance LeoLED UV curing system, which is suited to sheetfed applications, drew attention from RMGT's distribution network. This ultimately led to the first test installation at the company's headquarters in Hiroshima a year ago.

The LeoLED system was exhaustively tested on several presses, in multiple configurations and the results surpassed all existing performance criteria.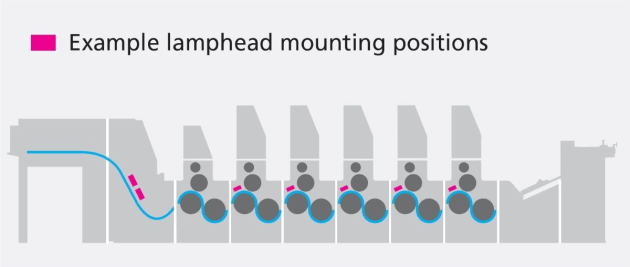 Katsushi Hirokawa, president at RMGT, explains the decision in detail: "RMGT is committed to building relationships of trust with customers, peripheral device manufacturers and all others involved in the industry. We continually work with our partners to refine and perfect technologies, and to bring innovative new products to the world of printing. Inspired by this corporate philosophy, we have pioneered LED UV, and our in-depth experience and knowledge of this technology has enabled us to make a sound judgment about our future UV curing partner."
Robert Rae, managing director of Sales at GEW, comments: "This announcement affirms GEW as the leading supplier globally for UV LED curing systems. Our latest LeoLED system offers very high power and is used in one form for all markets and applications. This means that it is produced in high volumes, bringing outstanding reliability at a highly competitive cost. In a sheetfed environment, GEW's Modular Lamp Array (MLA) allows any number of lamps to be positioned and quickly moved anywhere throughout the press. This means the same LeoLED product can be used for low, medium and high-performance applications, but arranged in single, double or triple MLA configuration, dependent upon the application and speed requirements – always guaranteeing performance. It is this concept that appealed to RMGT, both for ultimate reliability and for the flexibility of configurations across their wide range of presses."