Southern rebrands to Southern Impact
The print industry has a new name out in the field, with Southern Impact now the brand for what were Southern Colour, Intelligent Media, and Impact Digital, forming a powerhouse business operating under one brand.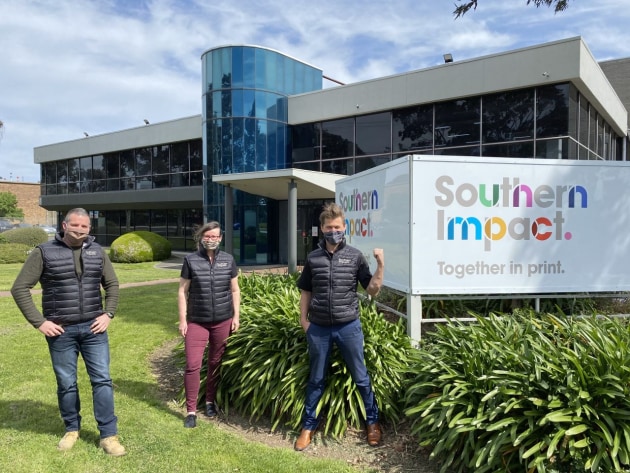 The company is based in the 7000sqm Mount Waverly building in Melbourne that was formerly home to The Bindery, Rooster IMC, and before that Geon.
The company says it has taken the depth of traditional offset printing of Southern Colour, added the rapid, digital print solutions of Impact Digital, with the personalised printing services of Intelligent Media, and combined these with tailored software solutions, and its wide-reaching distribution, warehousing, kitting and logistics services, joining them together to form Southern Impact – Australia's newest, and what it says is its most committed, one-stop print business.
Southern Impact has been the parent company of the three brands since 2015, when Southern Colour and Impact Digital bought Intelligent Media. It launched OnPack a year later. It bought the assets of Rooster IMC from Naresh Gulati when his business collapsed last year.
At the time, Southern managing director Rod Dawson said: "Southern Colour, Impact Digital and Intelligent Media will be branded and operational as Southern Impact by FY 20/21. The label and packaging business will also be on site, but will remain branded as OnPack, as we continue the amazing progress this business has made since being launched in 2016.
"As in the past with our group, continued investment in technology and gaining operational efficiencies will deliver a powerful manufacturing site for years to come. We believe that this is a great outcome for staff, customers and our suppliers."
Southern said with a "new name, new signage, and new merchandise it's been nice to launch our new brand identity and something positive in 2020. Can't wait to share it with people in person and have you come and visit."
Its digital labels and packaging business OnPack will retain its own identity, with Michael Nankervis remaining as its head.
The company consolidated four separate sites in Keysborough and Brunswick into the Mount Waverly premises, which it acquired when it bought Rooster IMC at the end of last year. It has also added wide format printing to its offset and digital capability, bringing it inhouse for the first time.