Westman brings binding inhouse with Horizon BQ-270
Minto-based Westman Printing has brought perfect binding capabilities in-house, and is offering a service to the trade, with the installation of a new Horizon BQ-270 perfect binder, supplied by Currie Group.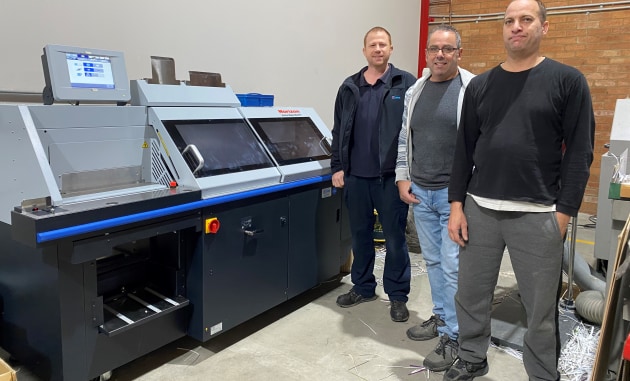 Westman had previously out-sourced its perfect binding jobs, but with the new binder, it will be able to produce all work in-house, and also offer perfect binding services to the trade.
Vik Gulati, who took over the business in 2005, said, "Outsourcing options have diminished in recent times, and we began to see the numbers come down in favour of a one-stop solution for in-house print services. That made us think about doing it ourselves."
Westman prints digital, offset, packaging and promotional items and also offers a mail fulfilment service as part of its operations. Operating for 25 years, Westman Printing services clients across a variety of industries, Australia-wide.
The company has 20 staff operating with two digital colour printers, and two offset litho presses; a B2 aqueous five-colour, and a two-colour SRA3.
Gulati said, "We assessed all the available technology for perfect binding, including used equipment, and the Horizon BQ-270 stood out.
"Currie Group also gave us access to a new hybrid glue Planamelt, which delivers unbeatable strength as per our tests, giving us the long tank-life of EVA glue, and strength comparable to PUR.
"Then the engineering quality of the Horizon BQ-270 and the track record of these machines which are already in the field, made it clear to us that this is a robust production machine. Finally, our association with Currie Group over the years was an important factor. We needed to know the supplier had credentials, and Currie Group has always looked after us."
The new Horizon BQ-270 will bind jobs that come off both offset and digital presses and be used for both short run and medium run work. Gulati said, "It is now up and running and performing better than we expected. We welcome trade work for the binder, as it will produce a great job."
Westman Printing is one of the oldest names in the commercial printing segment of South Sydney. It says its foundation pillars for the company are dedication to customers, high quality printing, personal and reliable service, quick turn-around time, hands-on managers, who understand print needs and deadlines, and competitive price.
With a top speed of 500 cycles per hour and a book thickness 1-50mm, the Horizon BQ-270 is JDF compatible. It can automatically set up – via a central touch screen control – the book-block dimensions and glue application, as well as cover feeding, positioning and scoring. Up to 20 different jobs can be programmed into the machine's memory to be recalled at a later date.
Other notable features include the top-feed cover station (positioned to accommodate inline scoring), that can handle up to 70mm of cover stock; the gluing station that has two application rollers, as well as side glue rollers, to aid binding strength; and the rotary milling and roughening blades that can mill off up to 3mm from the book spine, helping the glue to penetrate better.
A changeover from A4 to A5 size book can be completed in 10 seconds. Currie says the strong, rigid nipping and cover scoring stations are comparable to larger industrial book binders, for strong, accurate binding.
Will Currie, NSW account manager at Currie Group, said, "Vik and I looked at how he could have a greater product offering in-house for his business. The Horizon BQ-270 proved to be the right solution, and with Currie Group supplying Planamelt glue, it offers a high tensile strength that keeps customers satisfied with the durability and versatility."