BIG NAMES LINE UP FOR DRUPA
Canon is the latest big-name vendor to sign up for the global mega-show drupa next year, with the imaging giant joining a host of major players on the floor of the Messe Centre, which runs in just eight months time.
All the main digital print technology developers are now confirmed as exhibitors; with HP Indigo, Kodak, Fujifilm, Konica Minolta, Ricoh, and Xeikon all taking stands, along with Canon.
Landa will be at the show with its nano technology, 12 years after its first appearance, while inkjet print will be a key theme, with Heidelberg's GallusOne on show, and there will be several inkjet sheetfed B2 presses for print business owners to consider.

Ricoh will launch its sheetfed B2 inkjet X75 'Dragon' at the show. Konica Minolta will have a new version of its B2 sheetfed inkjet AccurioJet, and Canon may or may not have an updated development of its B2 Voyager that was shown at the last drupa. Miyakoshi will also have sheetfed inkjet presses, while Kyocera and Canon will be among those with SRA3 inkjet print systems. HP Indigo has the world's best-selling B2 digital press, which will be at the show, this is based on its liquid toner technology.

All the offset press manufacturers are taking part, with Heidelberg, manrolandGoss, Koenig & Bauer, Komori and RMGT (formerly Ryobi and Mitsubishi) all booked in. Finishing systems developers too will be present in large numbers.

Wide-format print developers are well represented, with Canon, Durst, EFI, Epson, Fujifilm, HP, Mimaki, Mutoh, swissQprint and Zund among those taking part. Interestingly, the 2024 drupa comes just two months after Fespa will hold its global show in Amsterdam. Fespa though says 80 per cent of its exhibitors don't take space at drupa.
Label print systems developers too will be at the show in force, drupa coming in-between the biennial Labelexpo Europe show, with companies including Epson, Screen and OKI also at the show.
Xerox is the only major name not going, although it does not operate in this part of the world, and its inkjet cutshteet presses have never been available here.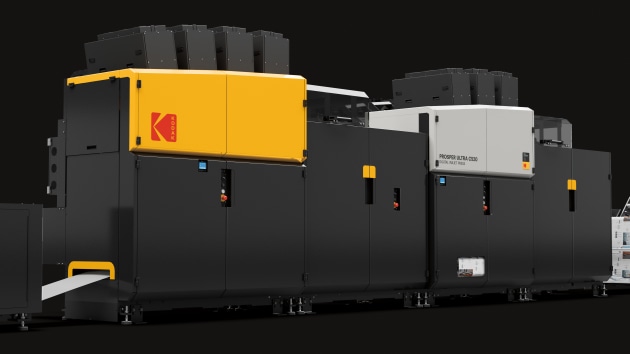 The 2024 drupa expo takes place over 11 days from Tuesday 28 May to Friday 7 June. It runs every four years, but this is the first since 2016, with the 2020 show first postponed, then cancelled due to Covid. It is recognised as the premier event in the global print world, and in the past has attracted several hundred thousand print professionals to Dusseldorf.
Visitors this time will see a new Hall 1, which has been traditionally filled by Heidelberg, but the press giant is taking a different approach this time, eschewing the whole hall approach, and going for a more nuanced presentation, still with a huge space in Hall 1 and with the option of taking visitors to Weisloch for the day, where its entire range is on show.
Altogether almost 1200 exhibitors have now committed to the show. Alongside the technology the show will feature the drupa cube, where speakers will provide with practical insights for implementation, from business trends and best practices to the future of printing. There are also specialist sections on packaging and textiles, with both exhibitors and educational sessions. The DNA concept will also run again, this is the space for disruptive start-ups and technologies.
Marc Bory, EMEA vice president, Digital Printing & Solutions Marketing & Innovation at Canon Europe, said, "drupa 2024 is an important milestone for Canon. It allows us to deepen engagements with our print communities whilst demonstrating our innovation, technology leadership and commitment to accelerated growth in commercial and industrial print. We look forward to meeting with global print communities face-to-face again, to discuss how we can help them to grow and thrive sustainably for the future through technology and business innovation."