ESKO & X-RITE PANTONE TEAM UP AT LABELEXPO
Labelexpo will see a connected Esko and X-Rite Pantone ecosystem of automated workflow, colour management, flexo platemaking, digital printing, and print inspection tools.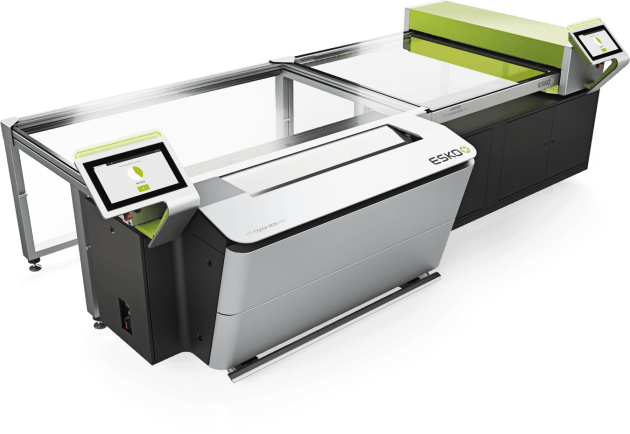 The companies say it will show how they can deliver consistent performance and accelerate business growth. "Visitors to our combined booth will discover how Esko and X-Rite Pantone are helping the packaging industry achieve consistent performance from concept to market," said Jan De Roeck, Esko director of Marketing, Industry Relations & Strategy.
He said, "Using demonstrations of the latest technology, displays, and expert discussions, we will highlight how an end-to-end ecosystem of new colour management software and measurement solutions supports digital workflows to increase efficiency, enhance sustainability, and drive growth opportunities."

From booth C60 in Hall 3 of the Brussels Expo, Esko and X-Rite Pantone will showcase their entire range of digital workflow solutions from design through production.
Highlights include Phoenix, Esko's AI-based tool that it says unlocks planning and imposition productivity improvements, with a seamless interface between prepress data and production data in Esko applications.
The award-winning Esko CDI Crystal XPS 4835, using UV main and back exposure to produce highly consistent digital flexo plates while minimising waste will also be on show, as well the AVT Helios System, which automatically inspects printed labels or packages for defects and imperfections.
The latest Esko Software version, which delivers a combination of prepress editing and cloud-based workflow automation solutions, more integrated and connected throughout the entire prepress workflow will be running.
X-Rite will have its eXact 2, which t claims is "the most connected and easy-to-use" handheld spectrophotometer that can measure colour across various substrates - including flexible film and paper - in a single device, while also verifying customer standards.
X-Rite will also have ColorCert Suite, which works with Esko WebCenter, AVT's Spectralab, and eXact 2 to provide printers an overall view of print quality and colour performance in a single number score to confirm compliance with brand specifications.
PantoneLIVE will also be on display, visitors able to see the digital colour libraries for the creation and sharing of accurate brand colour standards that are achievable across printing technology and substrates.

"Error and waste reduction have a direct impact on the environmental footprint of a packaging business," said De Roeck. "As we are all looking to protect the environment in which we live and to safeguard it for future generations, we must reduce the impact of our operations on the environment. With sustainability and digitalization fundamentally altering how the industry operates, it is imperative that today's label and packaging companies invest in digital workflow technology that enables them to boost efficiency, reduce costs and improve their overall productivity."

Jon-Michael McCartney, director Print and Packaging, X-Rite Pantone, added: "The combined X-Rite Pantone and Esko ecosystem helps to streamline the design, prepress, formulation, and production workflow with the sharing of packaging and colour data to reduce errors and improve reporting.

"With a digital workflow you can eliminate on-site press approvals, clearly define and share print requirements across a global supply chain, reduce waste and rework, save resources, and support sustainability goals," he said.

Labelexpo returns to Brussel from 11-14 September – visitors can join Esko and X-Rite Pantone at booth #C60 in Hall 3 of the Brussels Expo.