FESPA 2024 AIMS TO UNCOVER OPPORTUNITIES
Fespa Global Print Expo, European Sign Expo, Personalisation Experience and the inaugural Sportswear Pro will take place from 19 to 22 March next year at the RAI Exhibition Centre in Amsterdam.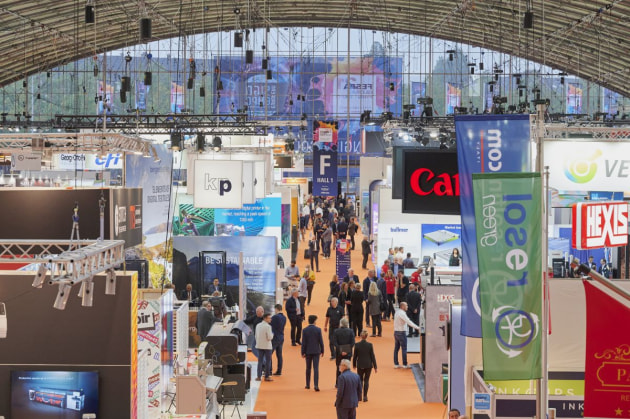 The organiser says the co-located events will showcase an array of solutions for speciality print, sign making, personalisation, and sports and leisure garment production, all aimed at uncovering new opportunities.

Amsterdam RAI has been host to successful Fespa exhibitions in 2006, 2009, 2016 and 2021. The local Amsterdam Schipol airport is a one stop flight form ANZ with the likes of Emirates, Qatar, Japan and Singapore airlines.

Michael Ryan, head of Fespa Global Print Expo, said, "This year, we're introducing a set of new event straplines which represent a natural progression from the 2023 events where we encouraged visitors to discover 'New Perspectives'. The FESPA 2024 straplines; 'Opportunities, Uncovered' at Fespa Global Print Expo; 'Opportunities, Illuminated' at European Sign Expo; 'Opportunities, Created' at Sportswear Pro; and 'Opportunities, Reimagined' at Personalisation Experience, highlight how there's always something new to learn and how the sectors that our visitors are active in are often broader than they realise."

Ryan continued, "In our constantly evolving speciality print industry, the possibilities and opportunities are endless and we're excited to welcome an array of suppliers to highlight their latest, innovative solutions. We look forward to showcasing new growth opportunities to our global community in Amsterdam."

Visitors to Fespa Global Print Expo, European Sign Expo, Personalisation Experience and Sportswear Pro 2024 will see a host of technologies, media and consumables from confirmed exhibitors including Agfa, Antalis, DGI/d.gen, EFI, Elitron, Kongsberg, LIYU, Mimaki, Orafol, Sun Chemical, and swissQprint. Confirmed textile suppliers include MHM, Monti Antonio, MS printing/JK Group and ROQ, as well as two new embroidery suppliers – Tajima and Ricoma – choosing to exhibit at a Fespa event for the first time.

The 2024 events will again host an educational conference. Day one will be dedicated to Personalisation Experience, offering educational content from industry experts on the commercial value of personalisation. On the first day, speakers will cover topics including how personalisation can be used to engage new audiences, customisation trends in 2024 and the role of AI in personalisation. Day two of the conference is aligned with Sportswear Pro, and will focus on the opportunities in sports and leisure garment production and decoration, delving into topics including the latest trends, recent innovations and circular design. The full lineup of speakers will be confirmed closer to the event.

A Personalise Make Wear feature will run as part of Personalisation Experience and Sportswear Pro, showcasing an array of personalised printed sportswear and athleisure. Offering visitors the opportunity to join expert-guided end-to-end production tours of the latest technologies for sportswear garment make-up and personalisation of sport-related merchandise, Personalise Make Wear will also feature fireside chats, focused on technologies and processes.

The Sustainability Spotlight material showcase is set to return to the 2024 event, offering visitors a chance to learn more about sustainable material alternatives and how to improve their environmental performance and credentials.

World Wrap Masters is also back. Over the first two days, European vehicle wrappers will compete for the title of Wrap Master Europe 2024, followed by an action-packed series final where regional wrap masters will go head to head for the title of World Wrap Master 2024. Alongside the competition, visitors can benefit from live demonstrations with industry experts.

Dedicated websites for Fespa Global Print Expo, European Sign Expo, Personalisation Experience and Sportswear Pro are now live, providing practical information for exhibitors and visitors. Registration for the events will open at the beginning of December, and visitors can benefit from super early bird tickets to all four events for €25.
Fespa Global takes place just two months before drupa, which will also host the big names from the wide format world, however Fespa orgainsers say 80 per cent of Fespa exhibitors to not attend drupa.