LIA TAKES PRINTERS ON IVE TOUR
The Lithographic Institute of Australia (LIA) took its members on a comprehensive tour of IVE's Silverwater facility, where they came face-to-face with the company's immense firepower.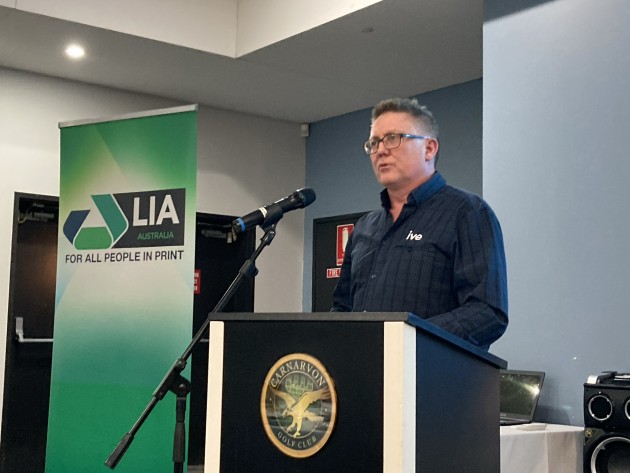 The biggest printer in the Southern Hemisphere is currently integrating the printing assets it picked up from Ovato's collapse, to cement its destiny as Australia's dominant print provider.

Two massive MAN Lithoman web presses from the old Ovato site at Geebung Queensland are now integrated into an expanded web array at IVE's Silverwater site in Sydney. A large Kolbus bookbinding line from the Warwick Farm site is also being transferred to Silverwater, to double binding capacity in the web sector.
It's unusual for a printing company in the midst of an expansion and integration programme to open its doors to industry observers. However, IVE's CEO of Print Web Offset & Distribution, Darryl Meyer, and his management team, were happy to host the LIA tour of the Silverwater plant, showcasing the transformation while explaining their strategy and intent.
Later at the customary LIA dinner, as guest speaker, Meyer gave an overview of the company's history, activities and plans. High on the list was the ongoing integration of the Ovato equipment, which is undoubtedly the largest single event of the recent past. He plans to have it all done by early next year.

He detailed the composition of the wider business with its four divisions, creative services, data driven communications, production and distribution (where the printing operation resides) and integrated marketing. He took pains to emphasise it's more than a printing company. In fact, IVE is currently the largest publicly listed marketing company on the ASX.

As the largest printing company in the region, IVE is obviously keenly aware of its position and focused on maintaining a sustainable industry.
The Silverwater site, by no means the largest of the company's locations, has two divisions, a commercial sheetfed operation including three Heidelberg 102 long perfectors, a Heidelberg 74 and HP Indigo digital presses, as well as a packed web-printing hall, with the LIA tour taking in both of them.
It is also the national prepress production site for IVE's 23 digital, 18 web and 15 sheetfed presses located at various sites around the country. All files for the 3.6 billion catalogues and the 290 million magazines printed every year pass through the Silverwater site, before being distributed as TIFF files to the printing sites.
For a sheer technical marvel though, nothing beats the high speed Ferag finishing system. Putting through 35,000 units per hour it collates, trims, inserts, stacks, wraps and palletises ready for despatch, the whole process untouched by human hand. It was a sight to behold for the print people on the LIA tour.
LIA members on the tour were thoroughly impressed by the professionalism of the IVE organisation, and thanked Meyer for the opportunity to tour the facility..