Ferrel, Jackson and Grant win individual awards
A trio of individual awards highlighted the exceptional contribution of leading industry figures Keith Ferrel, Zaidee Jackson and Chris Grant.
Zaidee Jackson from Ball & Doggett was named winner of the Exceptional Women in Print Award, Chris Grant from Active Display Group won Media Super Young Executive of the Year, and Cactus Imaging founder Keith Ferrel was honoured for his outstanding contribution to the industry, with the Media Super Lifetime Achievement Award.

Receiving the Lifetime Achievement award a surprised Ferrel, who had earlier seen his business win the national large format printer of the year award, paid tribute to his founder partner Warwick Spicer, and Spicer's son Nigel, who now runs the business with him. He also thanks Brendan Cooke, former CEO of oOh! Media, who was on the table with him.

Jackson said she was, "Beyond thrilled and surprised to be awarded 'Exceptional Woman in Print 2021' at the National Print Awards. Humbled and thrilled to be acknowledged by the industry. I stand proudly on stage with all the exceptional women in our industry and applaud you all. Thank each of you for pushing boundaries.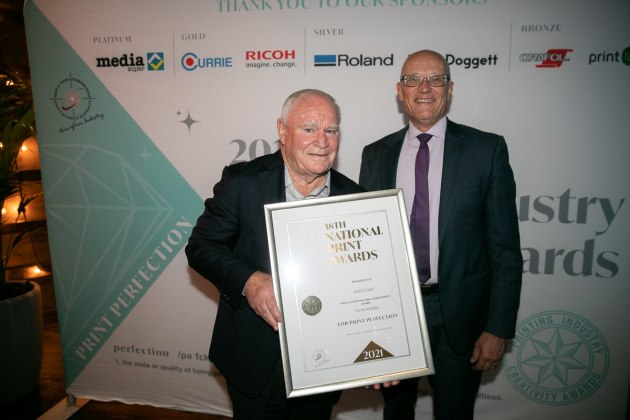 "As a collective we are stronger together and we have proven that as we weave our way through an extraordinary time. Each of our successes is a win for the industry. Congratulations to all the nominees and winners announced last night.
"Congratulations to every printer in the country being steadfast and continuing to produce outstanding print and celebrating the craft. A huge applause to the creative community that push the boundaries and design incredible work for us as an industry to bring to life.
"Congratulations Print & Visual Communication Association for the terrific delivery of the awards across Australia! What an achievement.
"An absolute privilege to work for Ball & Doggett, a company rich in culture, diversity and strength. A huge thank you to Luke Wilkinson Tony Bertrand, Alan Didus Kyrran Lewis Leigh Hooper and the incredible team I get to work with each day."