First showing of Roland DG's TrueVIS 3 range
A drawcard on the Roland DG stand is the newly released next generation TrueVIS printer cutter, which according to the company offers "the best print and cut performance ever", and received a Print21 Hot Pick Award.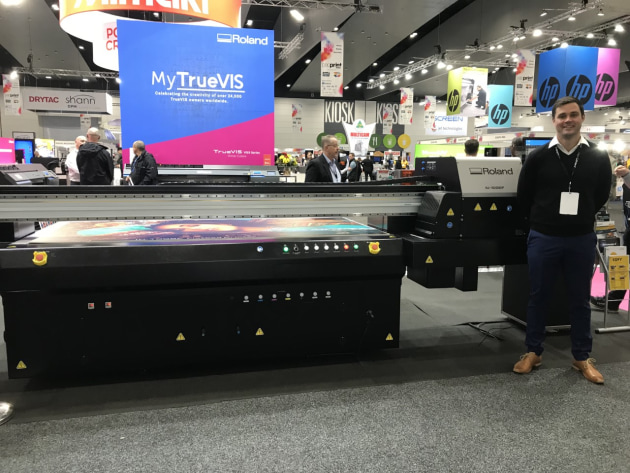 These were seen first hand as Greg Stone, product and marketing manager at Roland DG, provided a walk through of the stand, on day two of PacPrint, also highlighting the Texart XT-640S-DTG multi station DTG printer and the LEC2 S-Series UV flatbed.
Stone confirmed that this is the first showing of the TrueVIS SG3 and VG3 at an Australian show. "We are tying this in with My TrueVIS, a central webpage and social media campaign to share user testimonials about our TrueVIS large-format inkjet printers and printer cutters, and promoting the more than 24,000 units shipped since since they launched a few months ago – a pretty impressive milestone."
"The new third generation models are built on the TrueVIS platform, and we've added a lot of new functions with the customer in mind, such as more ease of use in terms of touch panel screens, new media, feeding, new take up systems and that sort of thing. Features that help improve ease of use for the customer," he added, saying that there have been a few sold to date, and that there is currently a backlog due to demand.
Another highlight on the stand is the Texart XT-640S-DTG multi station DTG printer, also the first public showing. With an 8 inch height clearance and 54 inch x 63 inch bed space, it can print around 50-60 dark shirts-an-hour, or 90-100 white t-shirts, large and bulky fabric items such as blankets, jean jackets, and bed linen could be added to the print output.
Also on stand was the LEC2 S-Series UV flatbed, which Stone says is based on Roland DG's UV print platform.
It is available in two flatbed sizes (64 inch and 30 inch widths), and offers direct to product customisation, plus direct printing on flexible and rigid materials. In addition to the available 64 inch and 30 inch widths, Roland DG offers two different carriage sizes and four different bed sizes to choose from, including a full-sized model that prints on full-boards.
"It's targeting not only traditional flatbed, printing panels and boards but also high-volume personalisation. We are pushing the versatility and quality of the machine," he says, confirming that the machines, launched overseas late last year, have just been launched in Australia.
Each LEC2 S-Series model is built to take full advantage of Roland DG's specially formulated, Greenguard Gold certified, wide-gamut ECO-UV inks, and users can choose from eight different ink configurations to suit their specific quality, media and finishing needs.
A True Rich Color preset within the bundled VersaWorks 6 RIP helps widen the colour gamut. In addition to the new Orange and Red process colors, specific Pantone and DIC colours can now be achieved, making the reproduction of specific company brand colours "easier than ever".
Stone says that the VersaWorks 6 software that comes standard with LEC2 S-Series devices is Roland DG's most powerful and intuitive RIP to date.
"It boasts a Harlequin RIP dual core engine with 64-bit native processing for enhanced speed and file handling, a simple drag-and-drop interface, nesting, cropping and tiling features, a special Color Plate Generation function that allows you to automatically generate White, Gloss, and Primer layers directly in the RIP, variable data printing, and much more," he adds.