Mimaki debuts JFX 600-2513 at PacPrint
The Mimaki JFX 600-2513, which launched last year, made its official debut in Australia on the Mimaki stand at PacPrint.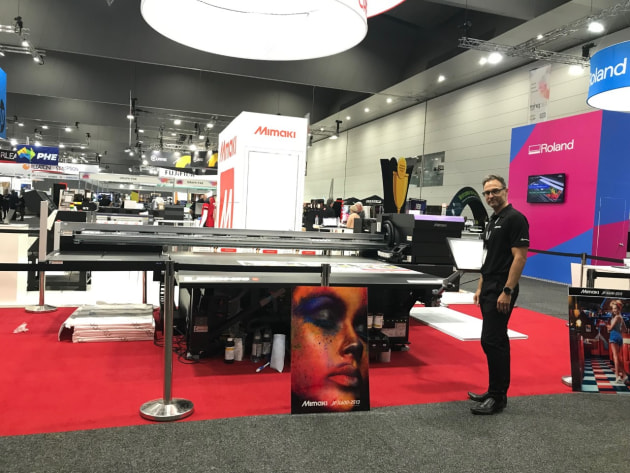 This was highlighted by Brad Creighton, national marketing manager at Mimaki, during a walk through of the Mimaki stand, where he also discussed a range of new offerings alongside the company's print technologies.
The JFX 600-2513 production flatbed LED UV, with a maximum printable size of 2500 mm x 1300 mm, has a thickness of up to 60 mm.
"We've gone significantly quicker with this product content compared to our previous models, and can run dual CMYK setup or spot colour options," Creighton told Print21, adding that when running four colour product modes, the machine can print in 120sqm/hour and "can even drive it up to to 200sqm/hour".
"We're running a 8-colour set at the show and showing some versatility with the gloss clear," he said, pointing out that the JFX 600-2513 prints the colour and the spot varnish all in one go.
Another first time showing on the Mimaki stand is the JV33160 eco solvent printer, which Creighton says is "drawing quite a bit of attention".
"For first time ever on a printer there is a built in XY slitter it prints and then immediately pops your poster out and there's no finishing required," he explained, stressing the fact that it is "literally brand new" to Australian shores, after launching at Fespa a few months ago.
"It is a big launch for us in the Australia/NZ market and is drawing a lot of attention at the show, and we were lucky to have it on stand," he says, admitting however that for those hoping to purchase JV33160, stock will not be available until August.
Other products on the Mimaki stand included the UCJV300 Print & Cut, versatile inkjet printer having a combined function of both printing and cutting mounted with UV-curable ink, which Creighton says has by far been the company's biggest seller in the last four years from an inkjet printing perspective, confirming that there is stock available.
The Eco-solvent JD 100 and cutter, and well as the UJF-6042 MkII e, successor to the smaller-format flatbed UJF-6042 MkII was also on display.
"The UJF-6042 MkII e flatbed UV-curable inkjet is always a good seller in this category and provides added value for screen and offset printers," said Creighton.