Print21 producing PacPrint podcasts
In a media first for the printing industry, Print21 is producing the industry's popular Print Files podcast every day from the PacPrint show floor, live from the Print21 Stand C35. The podcast is sponsored by Ball & Doggett, with exhibitors and visitors are invited to join the conversation.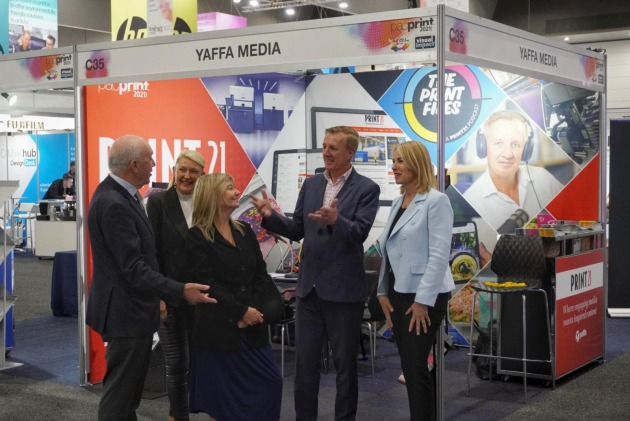 The Print21 Podcast studio manager Grant McHerron is stationed on Stand C35, where he will host live conversations with exhibitors and visitors, who will share short soundbites of news on innovations from the show floor, special announcements, and everything that caught their attention from the aisles.
Co-hosting some of the podcast sessions are Print21 publisher Lindy Hughson; Print21 editor Wayne Robinson, and Print21 deputy editor, Colleen Bate. The first PacPrint podcast saw Print21 publisher Lindy Hughson talk to PacPrint president Sue Threlfo.
Lindy Hughson said, "Across the four days of the show, we are talking to the industry's leading lights, covering technology advances, special milestones, important industry announcements, and of course, the National Print Awards winners."
The Print Files PacPrint Podcast are being live-streamed to the Print21 YouTube channel, and posted to Print21's social media channels every day.
The Print Files is the ANZ print industry's own dedicated podcast. It produces the monthly in-depth analysis of all major developments, It's Been A Big Month In Print, and special series, including Leading in Print and Smarter Business for Printers.
Print21 editor Wayne Robinson said, "The Print21 podcast The Print Files is a popular platform within the industry for sharing strategies, experiences, teachings and analysis. PacPrint will provide the opportunity for the whole community to be involved."
If you would like to be part of the conversation, reach out to editor@print21.com.au, or drop by the stand C35 at PacPrint.