virtual.drupa opens next week
The world's biggest industrial trade fair, drupa, will open in virtual format next week, in place of what should have been the postponed in-person show, which was cancelled thanks to the ongoing Covid pandemic raging through Europe.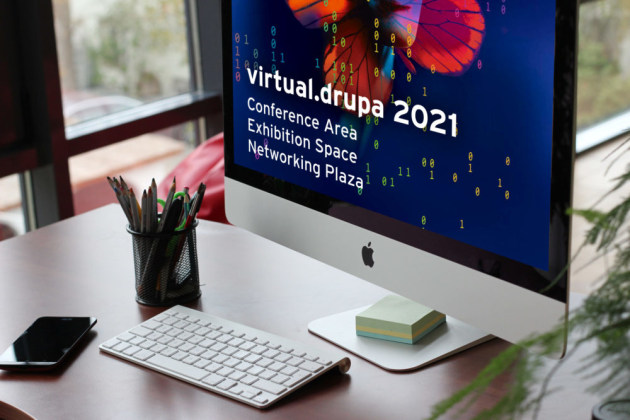 The virtual.drupa will have around a tenth the number of exhibitors that would have been in the Dusseldorf fairgrounds, with 200 so far signed up from 33 different countries. The online expo runs from 20-23 April.

Running alongside the online exhibition is a full conference programme, with some 130 sessions planned over the four days of the event, in addition to those hosted by exhibitors. The conference sessions will be beamed live, but will also be available on-demand, which is good news for the ANZ print community, who will be tucked up in bed when many of them take place.

The conference sessions are based on four key themes; artificial intelligence, the circular economy, the connected consumer, and the platform economy.

In addition to the conference and exhibition there is a virtual matchmaking service, which connects printers to exhibitors, according to their requirements.

The exhibitor list has many big names, but not all of them; in digital printing HP, Fujifilm, Landa, Kodak, Konica Minolta and Xeikon are present, but Canon, Ricoh and Xerox are not. In litho Heidelberg, Komori and Koenig & Bauer are taking part, but manroland Sheetfed and RMGT are not. EFI and Zund are in the large format sector, with Bobst, Esko and Omet in packaging.
The event partners of virtual.drupa include Leonhard Kurz (Platinum Event Partner), DuPont de Nemours, Electronics for Imaging (efi), Kodak, Komori (Gold Event Partners), BlueCrest, CloudLab, Fujifilm, Hybrid Software, Koenig & Bauer, Mimaki, OQChemicals and Xeikon (Silver Event Partners).
The show was first scheduled on its four year cycle for June last year, then moved to April this year when Covid hit, then finally canned as an in-person event. It will next run in its live format in 2024.