HP AND KODAK SAY NEIN TO DRUPA 2021
What was to have been the largest exhibitor at next year's rescheduled drupa, HP, has pulled out of the show, with Kodak also withdrawing, both citing Covid health and safety concerns.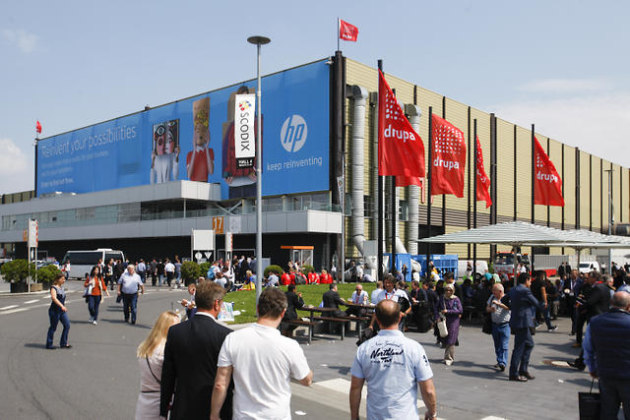 The withdrawal of two more of the biggest names in print is a blow to the giant exhibition, which was originally due to take place in June this year. Their withdrawal means half of the top 20 exhibitors from last time will not be in the Messe Centre next April.
Some big names have committed to the event, including Koenig & Bauer, Landa, and Kurz, but the show will not host Heidelberg, manroland, Komori, Bobst, Xerox, Fujifilm, or Screen, nor the alliance of German finishing equipment manufacturers including MBO, BaumannPerfecta, Wohlenberg, Bograma, H+H, and Hohner. HP and Kodak are now joining them on the growing no-show list. HP has also pulled out of interpack – the drupa of the packaging industry – which is due to run at the Messe Centre two months before drupa.
HP was due to have the whole of the 8300sqm Hall 17 at the Messe Düsseldorf for its exhibition booth to host its massive portfolio of printing technology, the same as it did at at drupa four years ago when it became the biggest exhibitor, taking the mantle from long-time holder Heidelberg. It released details of its new product line up back in March (click here for details).
Kodak would have shown its Prosper, UltraStream and Nexpress print solutions, as well as its workflow and plates, under the Take Print Further banner. Jim Continenza, CEO and executive chairman  at Kodak said, "Kodak's commitment to the safety of our employees and customers during the Covid-19 pandemic is paramount. The continued concerns and impacts of the pandemic make it difficult for us to commit resources for such an event in these uncertain times.
"Kodak will continue to invest in the print industry, doubling down on digital print and delivering the products our customers need to drive productivity and growth as the industry evolves."
The rescheduled drupa takes place in seven months. Australian printers are currently unable to leave the country under Covid restrictions on border control, which are currently in place until December. No-one yet knows if the restrictions will be eased next year. Citizens of Australia and North Korea are the only people currently banned from leaving their own countries. Citizens of several key drupa visitor target countries including the US, China, and India are banned from entering Germany, which is itself currently dealing with a second wave of infection.
Print trade exhibitions, conferences and awards continue to be postponed. The big international textile print show Heimtextil, which has just been pushed back from January to May, is the latest example. But the Düsseldorf Messe Centre has just hosted its first event since March, Caravan Salon, which attracted 107,000 visitors. The Messe was scheduled to host major medical shows in November, but these will now be virtual, as the majority of visitors come from outside Europe. The Wire and Tube expos now scheduled for December are face-to-face events.
Here in Australia and New Zealand all face-to-face print trade shows, conferences and awards events have been postponed since March, and none will run before the new year. PacPrint has been rescheduled to next September.