FESPA: CANON RELEASES NEW ARIZONA
Imaging giant Canon launched a new Arizona 1300 series with Flow technology, the innovative zone-free vacuum system that takes away the need for masking and taping on the bed.
Also launching today is Prisma elevate XL, an extension of the Prisma XL Suite, which creates tactile print applications and produces elevated prints on Arizona printers, helping users print textured effects and raised lettering up to 2mm.
Steven Badger, at Canon Production Print, said, "The Flow table is a real benefit when dealing with odd shapes. It will give producivity gains of up to 20 per cent."
According to Canon the technology allows users to print "pin-sharp", high-value print applications on rigid or flexible media of any size up to 1.25 x 2.5m with the Arizona GTF or 2.5 x 3.08m on the Arizona XTF. Both are aimed at the growing mid-volume print segment. 
Other new features include updates to the user interface with Advanced Image Layout Controls, which give operators the ability to make last minute adjustments before printing, including trimming, multi-reference points flexibility, and visualisation and modification of the print layer sequence.
The Arizona 1300 series with Flow technology also includes an accounting interface, opening up valuable data on ink consumption and production time, for example, for further processing in accounting packages.
Since there are no vacuum zones, far less masking and taping is required, reducing effort, time and cost. More than 8000 Arizona models have been installed around the world since its launch 17 years ago.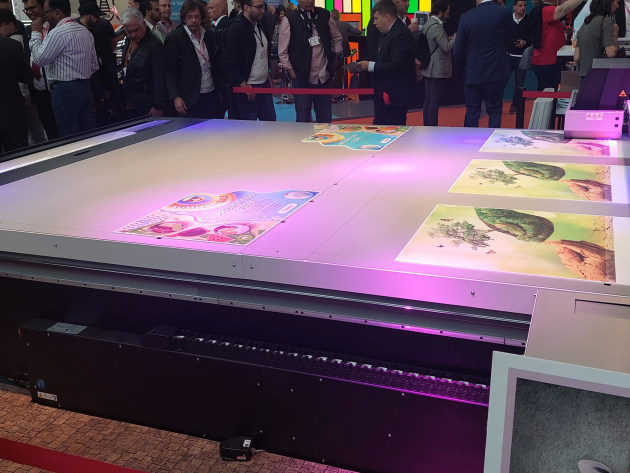 The new Prisma elevate XL, which succeeds Arizona Touchstone, delivers twice the elevation at up to 20 per cent higher speeds, extends the Prisma XL Suite, and creates tactile print applications and elevated prints on the Arizona 1300 and 2300 flatbed series. Prisma elevate XL is the latest member of the Prisma XL Suite, enabling printers to design creative, high value applications with textured effects by mimicking textured surfaces, and using embossing, metallic accents and raised lettering up to 2mm.
Canon also has the new Colorado M-Series UVgel print system in the spotlight at Fespa, the new modular system comes with white ink for the first time, and is able to handle a wider range of media, thanks to its new sensory technology.
The company says the ability to print on an extensive media range is one of the key attributes of the new M-Series, including the likes of window graphics, labels and wallpapers, as well as printing on heavy structured, transparent, coloured, reflective and magnetic materials.

Available in four versions – the M3, M3W, M5 and M5W – the new printers are modular systems that can be upgraded in the field, and for the first time, have a white option – that's the W in the names. They are 1.6m roll-to-roll printers, with two speed configurations.

Jonathan Fitzpatrick, marketing manager Canon Production Printing Australia, said, "When we launched the Arizona 250 GT 17 years ago, its world-leading technology revolutionised flatbed printing. To support the growing mid-volume segment of the market and respond to print buyer demand for faster turnarounds, we're now expanding the Arizona 1300 series with Flow technology. Used in combination with our Prisma XL Suite of workflow solutions – including the new Prisma elevate XL, these new models deliver the proven Arizona quality and versatility, but make production quicker and easier than ever, boosting our customers' competitiveness."