FESPA: CARBON NEUTRAL METAMARK
Supplied by Ball & Doggett, the Metamark range of media on show at Fespa includes self-adhesive material for applications across vehicle/fleet, including digital wrap film, coloured wrap films, decals, paint protection films, and reflective indoor/outdoor media.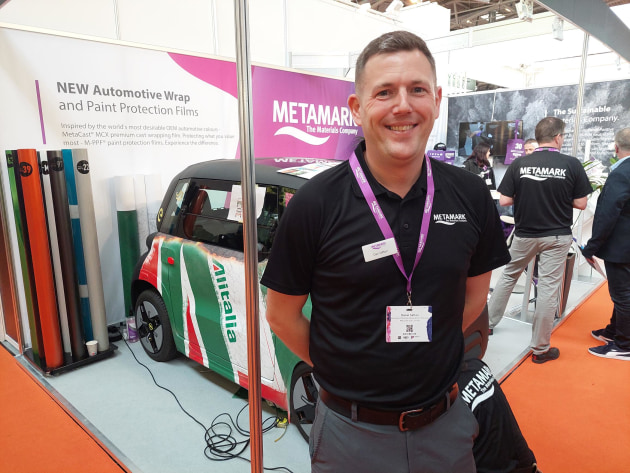 Metamark produces high performance, intermediate grade, promotional grade, print and cut, window graphics and frosted, materials that are one way and/or perforated, and media for walls, floors and lightboxes. It also manufactures anti-graffiti products and textiles.

Dan Sefton, international manager for Metamark, said, "We have just launched a carbon neutral range in our laminates and in the MD5, which is the go-to range for high-end digital print media."

The company was also showing its PVC Monomeric MDL lay flat media, with no curl once it comes out of the printer. A main focus on the stand was its MCX range, its full cast colour range, which Sefton said, "doesn't pop out of recesses, making it an ideal vehicle wrap."

MCX is available in 25 colours, including Porsche blue, McLaren orange and Mini Cooper red.