FESPA: MUTOH LAUNCHES DTO ON STEROIDS
Front and centre of the Mutoh stand is the new XpertJet 1462UF, described by Mutoh ANZ CEO Russell Cavenagh as direct-to-object printing on steroids.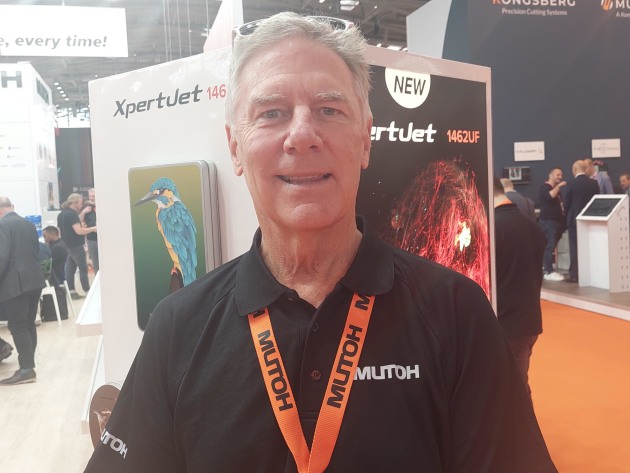 With a bed size of 1420x700mm it is significantly bigger than Mutoh's existing DTO printers. It will for example print 315 iPhone 14 cases an hour.

Cavenagh said, "I am asked a lot for a high speed high volume direct to object system, well now we have one. It has a high productivity for a small footprint, and will enable direct-to-object print providers to step up to the next level."

It can print on objects up to 150mm high, and can take up to 50kg of weight on its bed. It has six channels, CMYK plus white and a varnish. There are two new four-inch UV lamps, and a staggered two-set printhead.

The company says the bed size means that entry level screen printing will be well within range of the new XpertJet 1662UF.
Mutoh had its new 1.6m XpertJet 1682 SR Pro on the show floor. The XpertJet 1682 SR Pro is available in either four-colour or eight-colour versions, the twin head eco-solvent printer targeted at the car wrap and cosmetics markets, thanks to what Mutoh says is the wide gamut, which it can achieve with the light cyan, light magenta and orange options.
Also on the Mutoh stand is the hybrid 1638 UH Mark II, four-colour printer, with fold away tables, the 1641 eco solvent "wrapper's choice" CMYK printer, the 1343 SR Pro, aimed at franchises and small print shops, and a trio of dye sub printers that print either to transfer papers or direct to polyester.

The company is also showing its new MS51 ink, which has no gBL, which is currently being outlawed in several European countries. The eco-solvent ink is low odour and fast drying.