FESPA: ONE STOP SHOP FROM EPSON
Epson used its stand (or part of it) to show how a printshop could fit multiple technologies into its workspace to give it the ability to operate multiple revenue streams, and to launch its new DTG/DTF printer.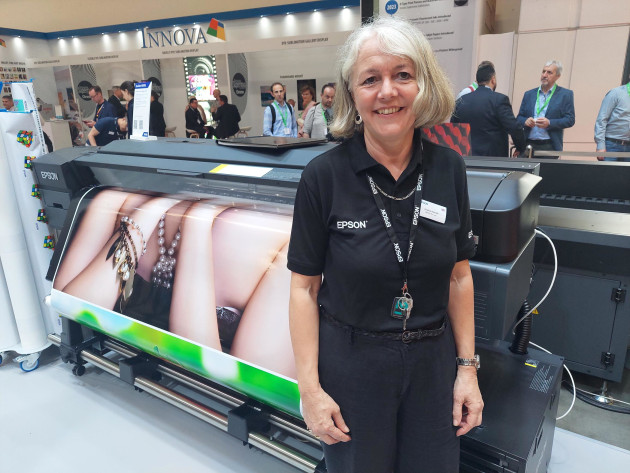 Heather Kendle, senior large format product manager at Epson said, "We are really showing our customers how to make money, particularly through personalisation. We are seeing strong growth there, with many opportunities for print businesses."
All Epson technology is based on the Precision Core printheads, which Kendle said, offered "precision, high density, and repeatability".
Epson used the show to launch the new SureColor F2200 direct-to-garment printer, which it says is ideal for start-up companies or medium-volume businesses that need high levels of flexibility and accuracy, with fast turnaround times.
Designed to produce complex designs on a variety of garments, the SureColor F2200 uses Epson's advanced PrecisionCore MicroTFP printhead technology to provide faster printing and data processing speeds, resulting in a productivity increase of up to 25 per cent over its predecessor, while maintaining print quality. With a compact, flat top design that allows installation into smaller spaces, flexibility is enhanced through Epson's bundled GarmentCreator2 software, which the company says enables the printing of both DTG and DTF, and improves the quality of fine lines and small text.
A transparent lid and internal light enable easy print-status checking, while there is an intuitive 4.3-inch touchscreen. With automatic carriage height adjustment, the F2200 remains stable with minimal adjustment by the user, and the platen can be easily removed and attached by hand, making adjustment for printing different garments "quick and straightforward". The GarmentCreator2 software, features faster data processing well as 600dpi resolution.
"Although the DTG market has become challenging, due to DTF technology," said Kendle, "this development offers new and medium-volume businesses a cost-effective and flexible option that delivers outstanding quality and can easily be scaled to meet future needs."
The F2200 uses new UltraChrome DG2 Ink Pouches, instead of cartridges. These 800ml pouches (previously 600ml) mean a lower change frequency, and significantly reduced wastage, in terms of space and weight, compared with ink cartridges. Epson's DG2 ink also reduces bleed between yellow and black, which is important for applications such as light T-shirts, and maintains colour consistency with DG ink.
Items included in Epson's personalisation zone ranged from custom-designed t-shirts, photos and canvas applications to bespoke mugs, notebooks, phone cases, magnets, coasters and water bottles. Elsewhere on the stand there are skis, surf boards, deck chairs, towels and a colourfully wrapped jet ski; and beautifully made clothes and haute couture with original designs on a range of different fabrics from some of the world's leading fashion designers. Epson says the variety of goods on display demonstrates the many flexible applications of Epson's extensive digital printer range using the latest dye sublimation, DTG, signage (embracing UV, eco-solvent and resin) and direct-to-fabric printing technologies.
"Fespa this year is all about demonstrating how Epson digital printing technology can produce beautiful, bespoke products that enhance our lives," explained Kendle. "Many small and medium sized businesses are using Epson's digital printing technology to produce and retail designed, desirable, personalised items, and we are showing many fine examples of these items on our stand. We are also demonstrating how on-demand digital direct-to-textile printing technology can combine with recycled materials and more eco-friendly inks, using less water compared with analogue methods, to produce far more sustainable products."