FESPA: XEIKON SHOWS WALLPAPER PRINT
Xeikon has an integrated Wall Deco Suite printing live, showcasing digital printing on a variety of non-woven materials from substrates partners Ahlstrom and Lahnpaper, as part of a display that has some 30 different applications on the stand.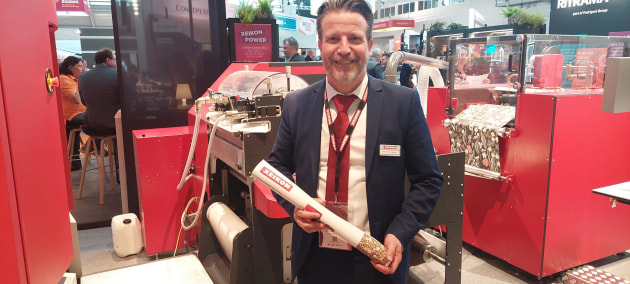 The Wall Deco Suite end-to-end inline solution consists of a jumbo unwinder, web cleaning unit, and Xeikon CX500 digital press, followed by a water-based varnishing module, and a slitting and waste removal unit, before a wallpaper rewinder.

Dimitri van Gaever from Xeikon said, "It is a white paper to finished product line. The reel goes in at one end, it is printed, then varnished if required, then slit, wound into a roll, cut and taped, with the waste paper shredded."
According to Xeikon, the traditional wallpaper market, typically printed gravure or screen, is in decline, while opportunities for short run wallpapers, personalised or not, are growing rapidly, driven by the home renovation boom. Van Gaever said, "The Xeikon wallpaper solution is not just for short run, the system will print up to 900sqm an hour."
It was the first time at Fespa for many years for Xeikon. Van Gaever said, "Wallpaper is an adjacent application, and in fact it is one of the big themes of the show. Xeikon has the pedigree and the system to enable print service providers to enter this market, which may prove beneficial to them."
Van Gaever pointed to a display in its booth from one of its wallpaper print customers, which has developed an in-store kiosk for home renovation stores, which enables home owners to choose their wallpaper, by first seeing in situ in a visual display in a variety of room backdrops after specifying their choices.