Chase Print turns to Horizon for new creaser/folder
Family-owned full-service printing company, Chase Print Group, has added to its portfolio of machines with the addition of the new Horizon CRF-362 creaser/folder with perforation unit, supplied by Currie Group.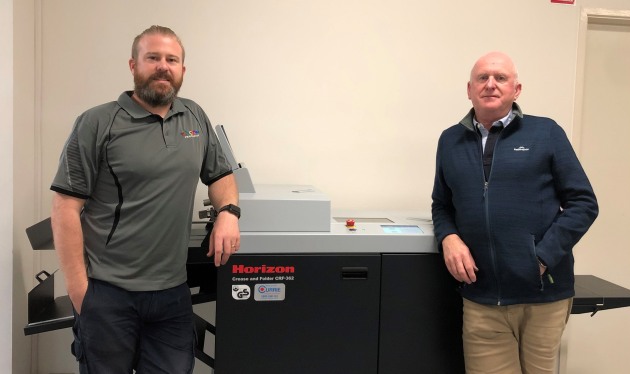 Located in the western suburbs of Melbourne, the company offers digital, offset and large format printing services, in-house graphic design, short and long print runs and point of sale.
With the high output of the company, it needed to use equipment that ensures the highest quality on every job, and according to Geoff Shadbolt, Chase Print managing director, when it came time to bring in a new creaser/folder, they couldn't pass up on the Horizon.
"We basically sat down during Christmas and tried to identify the weakness in our business and where we could save some money. And this was one of those areas," Shadbolt told Print21.
"We are basically a hub for small and large print companies, so we needed a machine that can handle all of that work.
"I spoke with a couple of people in the print industry who owned similar machines, and the Horizon was the one everyone said was the best for what we were trying to do."
The CRF-362 has been designed to handle the requirements of creasing and folding digital colour output across a wide range of light and heavy weight stock, coated or uncoated.
Creasing and folding can be done in one pass for easy and accurate processing of a variety of applications, such as restaurant menus, greeting cards, book covers and marketing collateral, which Chase Print says fit perfectly with its needs.
The CRF-362 comes configured with seven selectable fold patterns and six selectable cover creasing patterns for perfect binding, including spine, hinge and flap creasing.
Capable of up to 10 crease lines on a sheet, the system uses an impact scoring technology that eliminates or minimises cracking of the stock or printed image. The CRF-362 can also easily handle perforations with the optional PRF-36 perforation unit.
In addition, setup and changeovers – including fold pattern, creasing number and up/down crease selection – can be easily achieved through the high resolution colour touchscreen, which is designed for simple and intuitive operation.
"We do a lot of NCR books, so we do a lot of wraparounds and a fair bit of scoring, as well as looking after all the folding work that we do," explains Shadbolt.
"It's been great so far and I have been very impressed with it. The machines ticked everything off from day one, and in terms of operations, no issues there either.
"It's so simple to use too. We basically just did about day and a half of training and we've had no problem using these new machines since."
The system can handle paper weights up to 400gsm for creasing without folding, or 350gsm with folding.
Vince Pignataro, account manager at Currie Group said "Geoff reached out with the problem he had surrounding creasing/folding and cracking on his printed stocks. After we understood the challenges and were able to demonstrate the ease of operation, the crease and fold combinations available as standard and the ease of setup from job to job, it was soon apparent that the Horizon CRF-362 was the perfect fit for the business."