David Currie to step down, Rob Mesaros new CEO
David Currie, executive chairman of Currie Group, and one of the longest serving and best known members of the ANZ print industry, will be stepping down from his executive role within the business after 51 years. He will remain as chairman of the Group.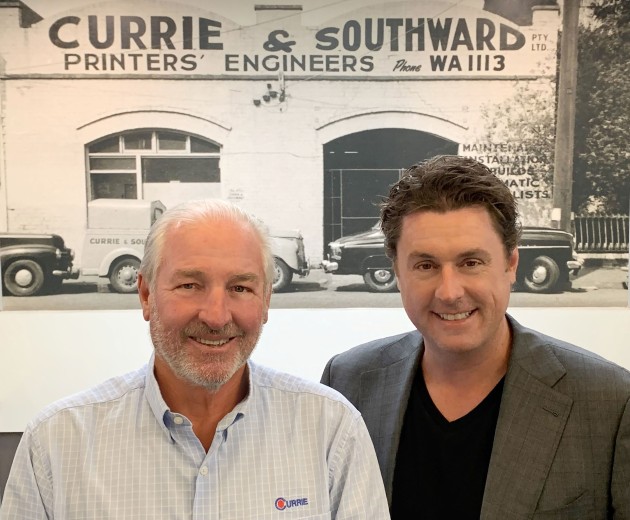 Effective immediately Rob Mesaros commences as chief executive officer, stepping up from the strategic advisor role he has held for the past six months.

Currie Group's senior management team now includes Bernie Robinson, managing director; Phillip Rennell, sales and marketing director; Mark Daws, director – Labels & Packaging ANZ; and Andrew Fitzpatrick, finance director.

David Currie began working with the business in 1969, twenty years after his father started it, and has been a primary figure in the local industry ever since. Currie Group is now the biggest supplier in the region.

He said, "The company is well positioned with new partnerships, and fresh talent coming on board, and new products from existing suppliers. I look forward to remaining as active chairman, whilst also spending more time concentrating on family commitments and other interests.

"On reflection and after 51 years in the industry, having seen enormous changes in technology and people, there is still confidence that there is a great future. I am proud that my son Will represents part of my legacy as the third generation in the business, which was started by my father in 1949."

New CEO Rob Mesaros started with Currie Group in August 2020 as a strategic executive advisor. He has been exposed to all facets of the business, and has connected with partners and customers alike. Mesaros will be responsible for leading the end-to-end business operation, with a focus on business strategy and growth.

Mesaros said, "It has been a pleasure getting to know all our key stakeholders and their teams over the past six months. Currie Group has a proud and successful history and strong cornerstone strengths.

"We have an enviable portfolio of class leading products and solutions, a deep and broad A/NZ service capability, unrivalled coverage, and a rich pedigree of talented industry experts for our customers to lean on. We will continue to look for ways to improve and grow for the benefit of the industry and our customers, and I'm personally optimistic about the future as we evolve and modernise. These are exciting times."
When David Currie started the business, it was still an engineering company with "a couple of lathes and milling machines" that it used to make parts for presses. The company moved into sales, Currie then brought the Shinohara presses to Australia in the mid 1970s, and sold 507 of them over the next three decades.

He won the Indigo distributorship for ANZ in 2002. Currie Group is now one of only three certified HP Indigo training centres outside of Israel. Today the company supplies a wide range of consumables and hardware, including HP Indigo, Horizon and Scodix.