Latest Print21 hitting desks this week
The latest issue of the ANZ print industry's trade magazine Print21 is arriving on the desks of print business owners and managers, with a bumper end of year issue in store.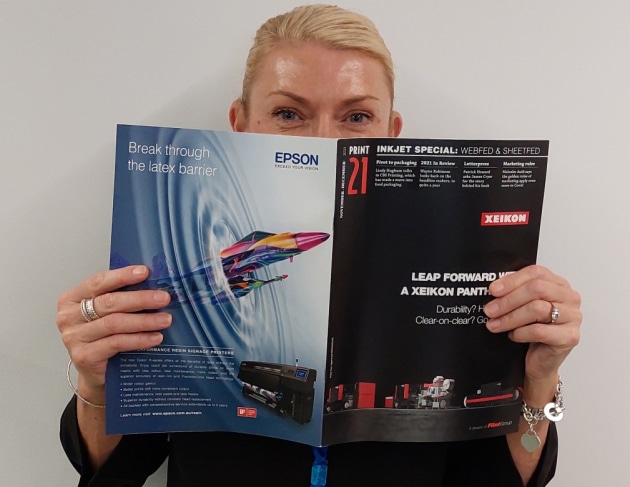 The November issue features 76 pages of informed industry content, aimed at keeping print business owners and managers fully up to speed with all the latest developments in the world of print.

Inkjet printing is a major focus in the latest issue, as the systems developers push forward with their technologies, both webfed and sheetfed. Inkjet printing will become an increasingly important print technology in the years to come, the new issue of Print21 looks at the benefits, the runners and riders, and how print businesses should approach inkjet.

There is a major feature on Xeikon, one of the original digital printing pioneers, and which now offers both inkjet and toner based solutions, according to application.

Printers pursuing pathways to growth are strongly featured in the issue, with articles on CBS which has pivoted into packaging, Pegasus which is hitting strong recycling targets and Smartcomm, which is investing in a new print and mail factory.

The wide format section has features from the Fespa Global trade show which has just taken place in Holland, and looks at a Brisbane print business scoring goals with its new equipment, and checks out some new board.

The last issue of the year provides a comprehensive review of a year that was like no other, except the one that went before, providing a one stop overview of all the major news in the industry.

As we look forward to next year Print21 goes back more than 100 years, to a journey made by a young letterpress printer – James Cryer's grandfather – as he went from Australia to the USA, and a time now long gone.

With the regular rosta of expert industry contributors looking at marketing, mental health, workplace vaccinations, and photo reports from industry awards events, and the latest from the major trade associations the issue is packed with valuable information.
Wayne Robinson, editor of Print21, said, "Each issue of Print21 magazine is created to provide print professionals with engaging compelling content that is directly relevant to their businesses, and the latest issue of Print21 certainly does that."