Latest Print21 magazine out now
The latest issue of the ANZ print industry's trade magazine Print21 is arriving on desks, with the bumper issue featuring much of the technology that would have been on show at PacPrint.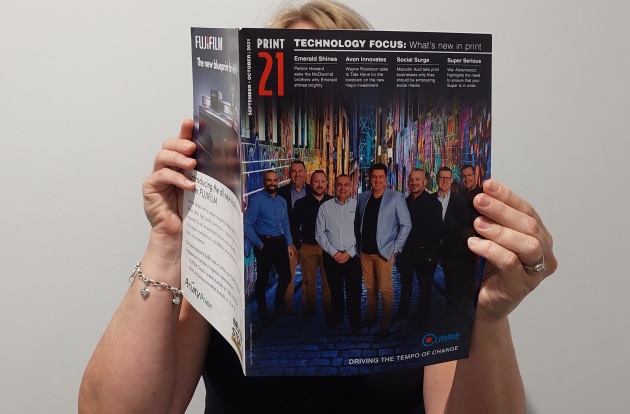 The September / October issue features 84 pages of informed industry content, aimed at keeping print business owners and managers fully up to speed with all the latest developments in the world of print.

Wayne Robinson, editor of Print21, said, "New technology can provide print business owners with entry into new markets, higher margins form existing markets, and competitive advantages. While PacPrint was rightly postponed the new issue of Print21 brings many of the leading technologies that would have been on show straight to the desks of printers."

The new technology focuses on prepress, digital presses, offset presses, wide format presses presses, label and finishing solutions, with many new solutions featured. There is a special feature on Currie Group under new CEO Rob Mesaros, who is driving the tempo of change.

The issue has several printer profiles. Everyone runs their business their own way. Conventional business strategy and planning hold little appeal to the brothers McDiarmid, owners of Emerald Press. At a time when the industry's conversation is channelled by management consultants and business theorists, the success of the mid-size commercial printer in Sydney's Castle Hill is a vote of confidence for sticking to what you know best. Patrick Howard sits down with the two print mavericks to learn the secrets of counter intuitive printing.

And just five years after becoming Australia's first trade-only wide format operation, Avon Graphics is significantly boosting its production power, with the new Durst P5 350 HS 700sqm an hour wide-format print system. Wayne Robinson talks to company owner Tate Hone.

With cyber security one of the hot topics in industry Sam Upton considers the role of print, assessing research conducted on behalf of TRMC, and comes up with some encouraging conclusions, while marketing guru Malcolm Auld analyses how and why integrating email and social channels with print gives the best results for connecting with more customers.

With all the regular contributors, all the photos from Pride in Print, and news from the movers and shakers in the People in Print section the latest issue of Print21 is a valuable read for printers.