Non-Auckland NZ print opens under Level 3
Printers in all of New Zealand, except Auckland and Northland, can fire up the presses again, with the prime minister Jacinta Ardern easing the country's lockdown to Level 3.  
However, most commercial print in Auckland wil remain closed, as the nation's biggest city will stay in Level 4 alert for at least two more weeks, with the decision being reviewed on 13 September. Northland will also stay at Level 4 until Thursday, as it waits to see if wastewater test results come back clear. If so, they will ease to Level 3 on the same day.
The rest of the country is now in Level 3, and will remain so for a week, before another review is undertaken on 6 September.
"The more we do to limit our contact, the faster we exit these restrictions. And for those outside Auckland, Level 3 does not mean freedom, it means caution," New Zealand prime minister, Jacinda Ardern said.
For the print industry, the easing to Level 3 restrictions means the sector can go back to business as usual, given they are all able to operate safely in line with protocols for Covid.
"Last year, it was announced that the premise for Level 3 is that businesses had to be able to work safely in pandemic circumstances, and we wrote a set of safety protocols for our industry which the chief executive of WorkSafe had signed off on," Ruth Cobb, CEO of PrintNZ, told Print21. 
"The majority of the businesses in our industry already have those things in place from last year, so the transition back down to Level 3 should be more straightforward this time around, as they are already all aware of how that all operates.
"So, for all of those Level 3 areas, it will mean business as usual, and they will again be able to do their full range of work, so long as they follow the safety protocols. Unfortunately, for those still in Level 4, they must continue to only do essential work."
Under Level 4, necessary print, such as foodstuff labels, is deemed essential services, and specific print for covid, such as floor graphics is allowed. Some news publications are also allowed, but letterbox delivery by under-18s is banned.
Apex Print, located in Lower Hutt, will be one of the companies back on board today, and Kris Tyrer, manager at Apex Print, is glad to get back to the swing of things.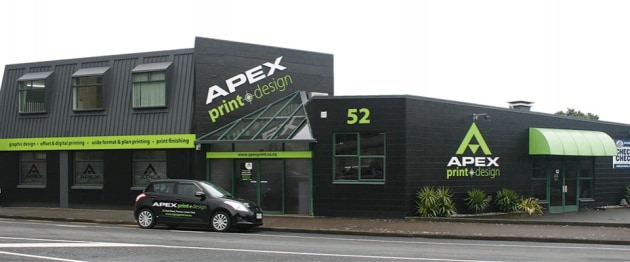 Established in 1944, the company offers everything from graphic design solutions, through to offset printing, digital and wide format print, plus binding and finishing services all under the one roof.
"It's great because we can all now go back to work and actually open up the business, although we still can't have any customers coming in. We are able to offer for them contactless pickups if they want any jobs done, but the protocols in place must be adhered to," explained Tyrer.
Unfortunately, those in Auckland will have to go through an extra two weeks of the current situation, and companies like Centurion Print will continue to do its best through these tough times.
The company specialises in digital and offset printing, and works with a wide range of clients including advertising agencies, international companies, small businesses and individuals. 
Pat Leitch, managing director of Centurion, said the company is "limping at the moment", as although they are still able to do essential work,  the majority of its clients are unfortunately not currently operating.
"We have work on hand with some food businesses and pharmaceuticals, so that's kept us going, but we are still not able to come in and print anything else," Leitch said. 
"And in our case, it will still be tough even when Level 3 comes in to play, because we are a commercial print shop, and most of our clients are in retail, which will still be restricted during that time.
"So, we will just do the best we can and continue to go day-by-day to see what we can and can't do." 
Centurion has made 12 people redundant since the initial lockdown began last year.