TRMC CEO Sleepout team raises $45,000
The Real Media Collective CEO Sleepout Team raising money for the homeless and those in housing crisis, has surpassed its target, achieving $45,000 in its first year, following last night's sleepout.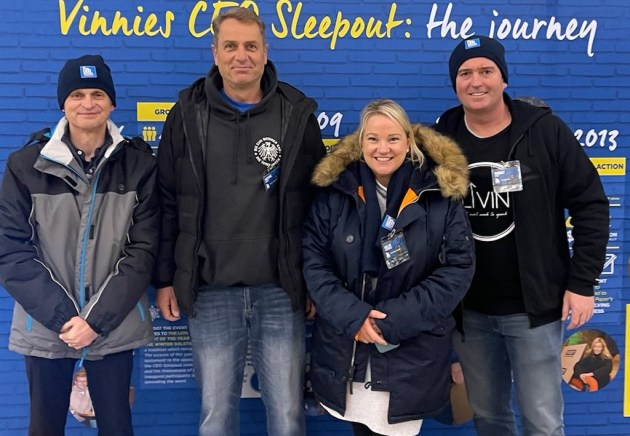 Donations ranged from an anonymous $10,000 to $10, with many print industry names on the list of donors. Donations remain open until 30 June, click here to reach the donations page.
Rodney Frost, CEO, The Lamson Group, Michael Schulz, general manager of The SOS Print + Media Group, Graham Morgan, managing director, Morgan Shaw Consulting and Kellie Northwood, CEO, TRMC, slept out in the cold overnight, to raise the funds, and represent the print industry as a collective team.
The team are all veterans to the cause, with Frost having slept out fourteen times, Morgan eleven times, Northwood four and Schulz three.
Rodney Frost, CEO, The Lamson Group, said, "Each year people become more aware that you are raising funds and the generosity builds, I was incredibly humbled by the support this year from business peers to family and friends, donations from $10 to $10,000 and all with the same generosity – people going without to give to others.
"Throughout the night people share their stories of how Vinnies has helped them which gives real meaning to why we do this each year and their vulnerability shows such courage. I take my hat off to each and every person who spoke last night."
The Vinnie's CEO Sleepout is a one-night event on one of the longest and coldest nights of the year – 23 June. It involves hundreds of CEOs, business owners, community and government leaders sleeping outdoors, without shelter, to support Australians who are experiencing homelessness.
Each participant commits to raising a minimum amount of funds to help Vinnies provide products and services to those in need, and The Real Media Collective formed an industry team this year with the plan to grow this team next year to include all of the print industry participants and form a united industry team across Australia.
Kellie Northwood, CEO, The Real Media Collective, said, "We are aiming to have at least one industry representative in each State and Territory. So far, we have Sydney covered and I also have a few people in Melbourne who are keen – that's a call out for our members across Brisbane, Hobart, Adelaide, Perth and the territories – come and join the team and let's raise some good monies for a great cause. Our industry has a history of great generosity and coming together to raise money for a good cause can only be a good thing."
According to the Australian Bureau of Statistics, 116,000 Australians are experiencing homelessness. Of these, 60 per cent are under 35, 44 per cent are women and 13 per cent are under 12 years old.
"A really big thank you to Rodney, Michael and Graham for being part of last night and for joining the Team, to all of you who donated and supported us, thank you. Your generosity is really appreciated. If you haven't donated and would like to, donations are open until 31 June, donate to the team or an individual. Every dollar helps," concluded Northwood.
To make a donation click here. The donations page is open to 30 June.
To register interest to Sleepout in 2023, contact hello@thermc.com.au.