Naidoc Week: E-Bisglobal transitions to Aboriginal
Tuggerah-based print management, procurement and software development company, E-Bisglobal celebrated a significant milestone and turning point in its business journey on Monday – its transition to an Aboriginal owned business.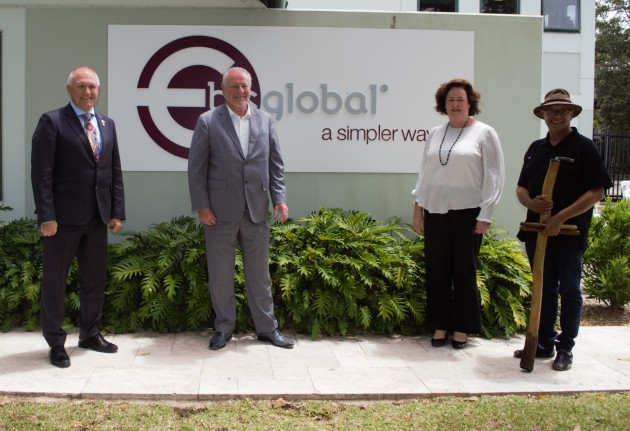 The theme of Naidoc Week 2020 is Always Was, Always Will Be, which acknowledges and celebrates Australia's history, a history dating back thousands of generations, not just the 250 years since the arrival of Europeans.
The theme was particularly significant for E-Bisglobal founder and executive director, Paul Freeman, who only discovered his Aboriginal heritage earlier this year. Freeman learned that his great great grandmother was the last remaining native Australian woman in the Liverpool district in the 1880s, and that his family belonged to the Cabrogal Clan of the Dharug Nation, which occupied land along the Georges River for 30,000 years.
The ceremony was also attended by three generations of the Freeman family, including Freeman's daughters, Emma Powney and Catherine Gibson, E-Bisglobal's sales and marketing director, along with his grandchildren. Gibson and the three children raised the Aboriginal flag, which had been presented to Freeman in July by federal member for Dobell, Emma McBride. It now takes pride of place beside the Australian flag outside the entrance to the premises at Tuggerah Business Park.

Freeman said the transition marks a significant milestone for the company. "Being formally recognised as an indigenous company will be an enormous benefit to our long-established government clients who are required, as part of the Reconciliation Action Plan, to spend a percentage of their outsourced project funds on indigenous businesses."

While there are no plans to rebrand the company, Freeman intends to offer employment opportunities, scholarships and traineeships to young indigenous people on the Central Coast, home to one of Australia's fastest growing Aboriginal populations. Freeman said, "We aim to work closely with Bara Barang through their employment, training and career pathway programs, which connect young Aboriginal people on the Central Coast with the right employers in a culturally sensitive way."

Freeman is planning to retire from the business, but remain chairman of the board, he said, "I am proud to be Aboriginal and believe it is a wonderful legacy to leave to my children and grandchildren."
The 30-year old family business marked the occasion, aptly held during Naidoc Week 2020, with a flag raising and traditional smoking ceremony conducted by Darkinjung elder, uncle Gavi Duncan, and attended by staff and a number of invited guests, including member for Wyong, David Harris, MP, and members of the Barang Regional Alliance.