The impact of digital technology on the label converting sector is little short of spectacular. While the vast bulk of volumes processed are still rolling off analogue machines, digital press sales are outstripping their flexo and combination rivals by a bull's roar. Konica Minolta is the latest entrant into the field with its AccurioLabel 190.
Konica Minolta invited XMPie, printIQ and QLM to Holmesglen Institute last month to give a master class to the Victorian print industry on the future of short-run digital label printing, starring the Konica Minolta AccurioLabel 190.
A good roll up of industry professionals on an early Thursday morning at the printing industry's Melbourne TAFE of choice, Holmesglen, was taken through developments in short-run digital label printing by David Cascarino, industrial print executive, Konica Minolta. His focus was on the latest AccurioLabel 190 label press, which the company has donated to the school of printing.
With ten installations in Australia, and 300 worldwide, since its launch at drupa 2016, the AccurioLabel 190 seems to have found a valued niche in the market. It concentrates on small- to middlevolume print runs of four-colour labels. In addition to the number of converting companies that are adding it to their fleet of presses, it is winning increasing interest from businesses beyond the professional industry. Part of its appeal is ease of use, small footprint and high quality output. When combined with a Centra HS finishing system, it's touted as being able to have an operator trained within a couple of weeks to run both machines.
Featuring a Miyakoshi unwinder at the front, the roll-to-roll xerographic machine has a throughput of between 9.45 meters and 13.9 meters a minute. According to Cascarino the 1200 x 1200 dpi imaging guarantees the same level of quality and colour the brand is recognised for at a unique cost performance point.
Digital label ecosystem
Enda Kavanagh, XMPie, was up front on the integration of personalised data with labels. He has also donated a system to Holmesglen, to allow students to have first hand experience on the XMPie software.
He advocates a holistic marketing experience across all media using data (see next article). He makes the point that labels are often the first touch point between a brand and the customer. He encourages digital label converters to ensure that all consumer touch points can be measured.
Following on came Adrian Flemming, sales director of printIQ, who pointed out that label production was nothing as straightforward as your average commercial print job. He gave three examples of jobs where everything takes a different path; a new job with a new die, a job with an existing die, and the same jobs to be printed on different presses. He ran through printIQ's estimating, and production scheduling, aimed at making the process as automated as possible. The two softwares, XMPie and printIQ, when they work together, are rapidly becoming the flavour of the month across many printing sectors.
Last up was the team from QLM demonstrating the Centra HS roll-toroll digital converting system. Able to laminate, die-cut, strip, and slit custom labels in one production pass at 500 frames per hour, it comes at much lower cost than a semi-rotary die machine. It has an operating cost per month of $50. No wonder at least six of the AccurioLabel 190s in the local market went in with a Centra HS finishing unit attached. The two technologies combine for a low-cost, easy to operate, complete system.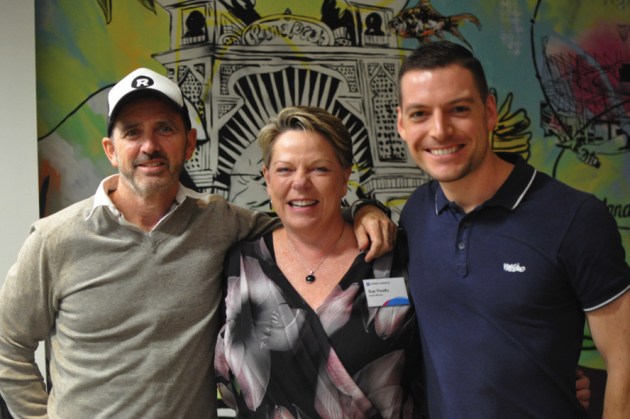 Coming down the pike
Cascarino gave a preview of the latest digital label technology coming out of Konica Minolta. Still mostly under wraps is the new JetVarnish 3DW Color+, which is likely to make its debut at Labelexpo in Brussels. He said it will change the game in throughput and embellishments. It will allow label printers to go digital over flexo, offset or digital web-fed printed output, with spot UV coating and embossed hot foiling, without dies, screens or expensive tooling.
Finally Paul Ross, CEO of Holmesglen, gave an overview of the revitalised apprentice and print training going on at the TAFE. He told of how private schools with stratospheric fees were sending their students to him to learn how apprentices work. One of the free Victorian government apprenticeships is for Printing Certificate II. He has 17 students now enrolled in on-campus study with a day a week outside doing work experience. There are 25 more on the waiting list. Who said printing didn't appeal to the young?
All in all, a fine morning dedicated to the increasingly confident future of the industry.