Durst webinar shows all you need is RSC
John Lennon may have thought love was all you need, but digital print systems developer Durst told a global audience all they need is RSC at a global webinar this week.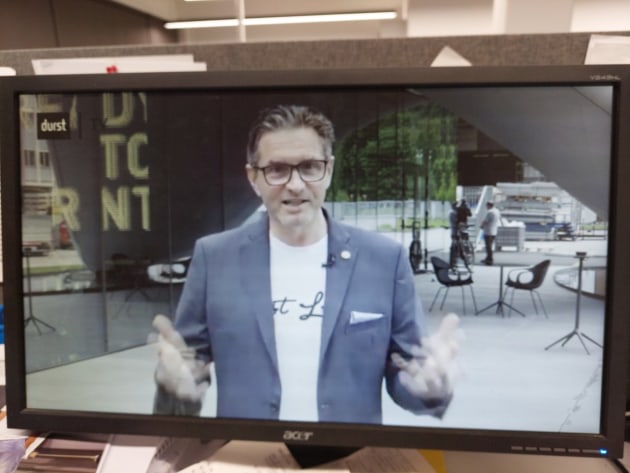 The company ran the event to highlight its range of Tau RSC label digital inkjet print systems.
Introduced by CEO Christof Gambert, and then led by new head of global label sales Tomas Macina, the webinar first ran through the achievements of the Durst Tau, which is now in 250 print businesses around the world.
They then looked at how changing consumer behaviour is influencing packaging, particularly the need for now and not later, the de-globalisation caused by Covid, the rise of the individual, and the environmental concern.
Macina said these dynamics were causing brand owners to respond, which as far as label print goes, meant short lead times even for long runs, far more SKUs as packaging sizes decreased and versions increased, and the need to have environmental info printed on the label.
Product manager Martin Leitner then took the global audience through the new Tau RSCi eight-colour single pass UV printer, which he said delivered reliability, speed and cost effectiveness, with new features including ink savings of up to 12 per cent, a maintenance management system, and protection against cyber attacks. All three are retrofittable on existing Tau presses. 
The RSCi prints at 1200 x 1200dpi at either 50 or 80 metres a minute, producing the equivalent of 1580sqm an hour.
The event saw a couple of label print business owners share their experience, with the CEO of Estonian outfit Labelprint saying he was printing at 100metres a minute for jobs of 20 kilometers. The All4Labels CEO said he was using the Tau for medium and long run jobs, as well as short run.
Matt Ashman, CEO of Durst Oceania said, "The developments and the refresh of the RSC E platform, along with the first installations of the RSCi firms up Durst's commitment to all the actors in the label converting sector. Durst now has a solution for all widths and production volumes."
Ashman also commented on the changing of the guard at the top of Durst labels, saying, "The addition of Tomas Macina to head up the team is such a positive move for the Tau line. His experience is exactly what is required. I have to pay tribute to my long-standing colleague Helmuth Munter, the outgoing lead in Brixen, who after 43 years with Durst is retiring, he will be missed."