Epson to display new SurePress at PacPrint
Epson Australia will display the SurePress L-4733AW water-based, resin ink, digital label press at PacPrint, which it says continues its legacy of providing white ink prime label printing, while delivering improved automation.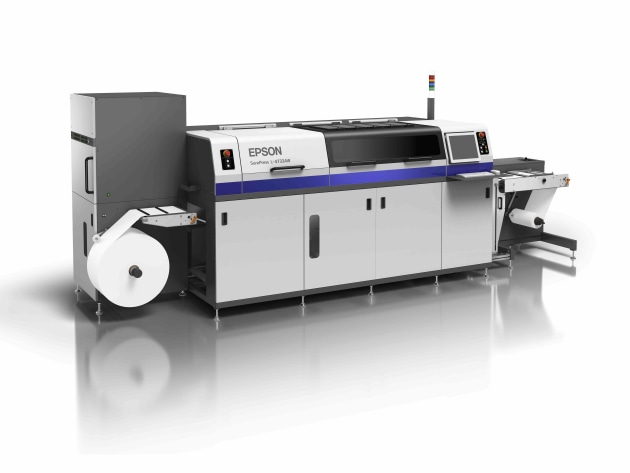 The company says this new addition to the SurePress line "offers higher levels of print quality, consistency, flexibility and value" for label converters, specialty printers and vertical manufacturers.
The SurePress L-4733AW builds on its predecessor, the L-4533AW, which Epson says is one of the leading selling digital inkjet label presses on the market today, to offer what it says is advanced automation and unattended printing features, higher productivity with improved print speed on film, and support for printing on a wider range of substrates. Additionally, an optional inline spectrometer is available.

According to Epson label converters and specialty printers are looking for solutions that are simple and cost-effective to operate and maintain, and can deliver on stable, predictable production, which drove the company to enhance its industrial SurePress line-up by adding new capabilities to the L-4733AW, which it says can help businesses save on upfront costs and maintenance. It says the advancements come without the compromise of simple operation and maintenance, production or print quality.
The SurePress L-4733AW is virtually automatic, requiring no manual cleaning of the printhead surface, meaning the L-4733AW is primed for unattended printing. Epson says with the optional SureSpectro AS-4000 inline spectrometer for real-time automated measurements to speed profiling and ensure consistent output for multi-plant networks, "the L-4733AW delivers accurate spot colours and gradients" required for brand-quality colour prime labels and packaging.

The L-4733AW supports a range of substrates, including off-the-shelf flexo materials, without the need to surface prime. Its inks meet the latest safety standards and regulations, such as Reach, and says Epson, "deliver high-quality images", making it a versatile press "ideal for converters focusing on food and beverage and health and beauty labels".

Epson's SurePress digital label press systems are engineered with Epson components including ink, printheads, LED pinning and curing and use an Epson Industrial Robotic Controller to manage the press rather than a PC, further enhancing reliability and stability.
The SurePress L-4733AW is available for purchase via authorised Epson resellers in Australia and New Zealand now.