The choice between conventional and digital label printing is not as stark as you might think. Hybrid platforms, which combine traditional and digital processes in the one unit, can help future-proof your business against the unexpected – and manufacturers such as Heidelberg (through Gallus), Nilpeter, and Mark Andy offer a best of both worlds approach with their respective hybrid solutions.
Digital and conventional presses each have their own pros and cons. Digital presses excel at short-run work and variable data printing, making them ideal for boutique work and jobs involving multiple SKUs, while traditional flexo, offset and gravure presses can power through long runs of identical labels at low cost.
In the middle is hybrid: conventional presses with builtin digital printing units (DPUs), designed to give label converters more options than either single platform can provide. According to the experts, hybrid has a number of benefits that pure digital and pure conventional presses don't offer their users.
For example, hybrid setups have advantages in real estate and manpower requirements over separate digital and conventional presses – you need fewer staff and less space to run hybrid, says Dierk Wissmann, ANZ national sales manager for Gallus at Heidelberg, which manufactures the flagship Labelfire press. "When you have a digital press and a flexo press separately, you need to have different operators for each machine and more space to fit both of them.
"With hybrid, everything comes out in-line in one pass, and when you add digital embellishment, you have everything to turn a blank roll into finished labels, from conventional to digital to embellishing and diecutting," he said.
Another key bonus of hybrid is its flexibility, according to Erik Blankenstein, sales director at Nilpeter, who says hybrid machines such as Nilpeter's Panorama platform give printers the ability to easily adapt to new challenges that come their way. "Some companies focus on only a few market segments, but if you are a bigger company that wants it all and will always say yes to customers – and many companies do – then it is not only being futureproof, but also being able to address any need or requirement that might come to you," he said.
Part of this flexibility comes from the combination of conventional's capacity for long runs and digital's ability to quickly and easily print variable data and multiple versions. "If your customers require flexibility and versioning, but the core label is the same size and shape, then it makes a lot of sense to look into hybrid," said Blankenstein. "The flexo can print the base part of the label, while the digital adds versioning."
Hybrid also offers more scope for later upgrades than pure digital presses, says Chris Bodger, national sales manager for graphics at Mark Andy supplier Aldus-Tronics. "With other digital devices, what you buy is what you get. Strictly digital presses are designed with finality," he said. "With hybrid such as the Mark Andy Digital Series, no matter the entry point, you have a growth path and trade-in opportunity to advance your digital business."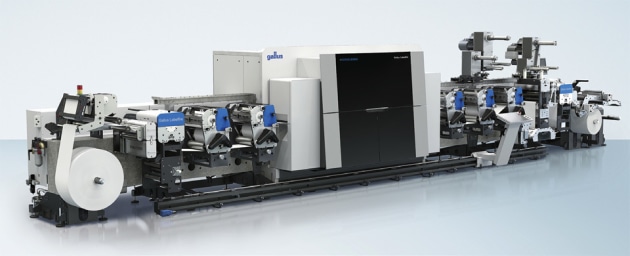 Words to the wise
To those considering investing in hybrid, the experts advise doing your research first. "Not all hybrids are created equal," says Bodger. "Hybrid equipment can be classified three ways: as semi, modular or true, with true hybrid providing maximum ROI.
"Semi-hybrid is not modular and is basically a one-piece unit without any possibility of future expansion. Modular hybrid uses a digital engine from a third party vendor, and true hybrid is where the entire one pass production system is designed, engineered and manufactured by one manufacturer," he said.
Blankenstein cautions that converters should make sure hybrid is right for them before taking the plunge, and that means more than just looking at the price tag. "It's largely a choice you make as a company, and not always based on objective market research and statistics – also how you see yourself as a company both now and in the future," he said. "What do you want to achieve? What market do you want to target? What are you doing already? Whether to invest in hybrid depends on these answers."