JET HIGHLIGHTS SCREEN LV350 UV SAI FLEXIBILITY
Jet Technologies had the long awaited in-person launch of the Screen LV350 UV SAI digital label press at its national HQ, and used the event to promote the flexibility of the new printer.
Speaking to Print21 at the event, Jack Malki, managing director of Jet Technologies, said, "The SAI press can print on a broader range of materials, including the likes of shrink film and aluminium, which will enable print businesses to serve a broader market."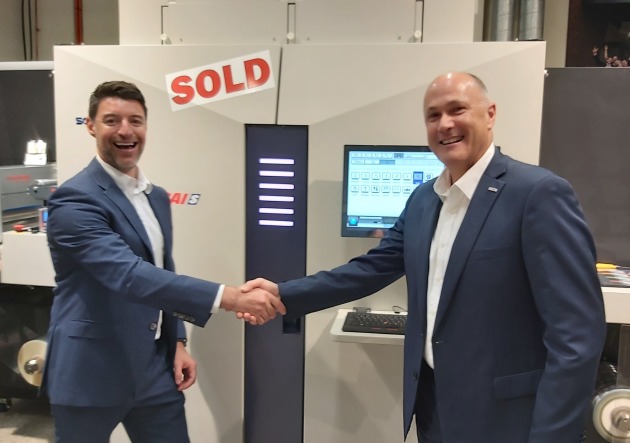 He said, "The L350 UV SAI will enable printers to produce a wide range of products, not just labels, such as pouches and lamitubes for instance, thanks to its ability to handle thicker substrates. It will open up new markets for its users."
Malki said the new SAI machine is also between 30 to 100 per cent more productive, depending on the colours and opaques, and said that the eight-colour press could handle thick carton and fibre-based materials, which chimes with the demand for environmentally friendly packaging.
According to Malki, the new SAI printer gives a future proofing aspect, with its broad range of products and substrates, and its Screen precision engineering. He said, "We have a Screen digital label printer that has been pumping out work in Australia for the past seven years, and is still operating at the same levels as when it first went in."
Jet Technologies is celebrating its 40th anniversary this year, although those celebrations have been muted in the Covid time. It has been in partnership with Screen for the past 12 years. Screen GP managing director Peter Scott also presented at the event, telling printers present that SAI in Japanese stands for colourful, and is an acronym for stability, accuracy, and integration.
There are three presses in the Screen LV350 UV SAI range: the E entry level version, the S fully optioned version, and the LM version for food packaging.
Scott said, "The SAI range has a 16 per cent smaller footprint, runs at 60mpm up form 50mpm, handles substrates from 60-350gsm, and has a three-minute change of roll. The press prints with ultra-thin inks for maximum pop to view."
The press on display had been sold to an unnamed print business.