Konica Minolta presents digital labels at AIP
Print solutions developer Konica Minolta took a break-out session at the AIP conference, presenting on its AccurioLabel 230 digital label press and fielding a host of questions on food and beverage labels and package printing.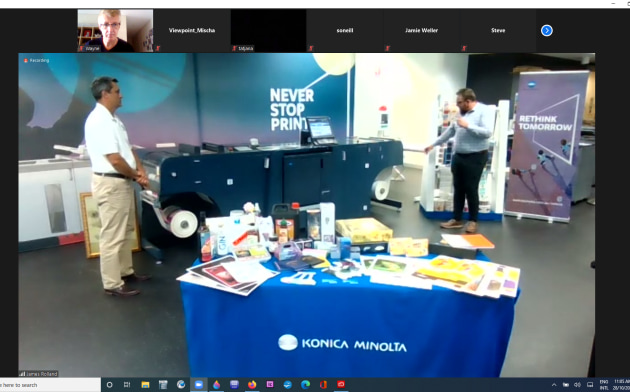 Presenters Adam Todd and James Rolland gave the virtual participants on a Zoom call and live streaming an end-to-end run through of the AccurioLabel 230, the 23 metres a minute digital label press. They highlighted the 2000 metres roll length, non-stop printing capability, 1200dpi quality, and +/- 0.5mm register tolerance.
Ease of use was a key concept, with no makready, a rip on the press, and an on-press roll slitter for the 330mm wide machine. It is designed to print up to 70,000 metres a month. Todd said 17 had already been sold in Australia and 600 around the world.
Rolland said the AccurioLabel 230 was positioned ot meet the growing trend to short run work, to versioning, to personalisation. He said the dry toner-based printing was suited to food and beverage jobs as it was food compliant.
He also told participants about two other Konica Minolta products suitable for packaging print: the KM-1e, which will UV print onto a range of substrates up to 600gsm, including paper, board, PET, PP and labelstocks and the MGI range of digital embellishing systems.
Questions from the audience focused on food safety, chemical accreditation, degradation, and refrigeration.