Konica Minolta puts in 1000th AccurioLabel
Konica Minolta is celebrating its 1000th installation for its AccurioLabel toner digital printing press, which comes seven years after entering the labels market, and two years after the 500th model went in.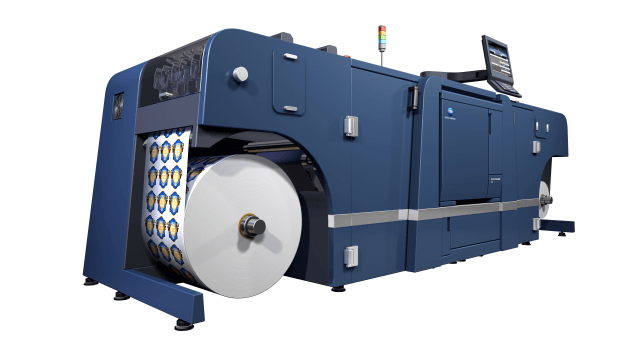 Etiq'Lyon, adhesive roll labels producer with seven staff in France, is the 1000th customer, investing in the AccurioLabel 230 press.

Bertrand Genin, owner, Etiq'Lyon, said, "This investment will enable us to offer many other new business solutions for our customers spread across all industrial trades, thanks to the support we receive, very good colour stability of the machine, and fast production speeds. We are proud to have become the 1000th customer of the AccurioLabel toner press."

According to Konica Minolta the AccurioLabel presses offer "affordable" entry to high-quality digital printing for print providers, brand owners, and packaging companies. Originally targeted at small to mid-size label converters, they are now also widely accepted by various larger label convertors. The flexible systems help manage the demand for an increasing number of small to medium print jobs with short processing times. A touch panel monitor enables intuitive operation, eliminating the need for extensive user training. Tasks that it says were time-consuming on analogue machines can be performed quickly and accurately with the AccurioLabel presses.
Tatjana Ferguson, product marketing manager – production and industrial print, Konica Minolta, said, "Konica Minolta R&D developed the AccurioLabel presses with the customer requirement in mind. The AccurioLabel 230 is the third product evolution offering major benefits in label printing and design. The 1000th installation is a significant milestone, recognising the success Konica Minolta has experienced since entering the label market. We are excited to be able to accelerate the label business as we constantly rethink what is possible with our product offering, igniting print possibilities in a sustainable way through injecting new-found creativity into customers' continued digital transformation."
Printers investing in AccurioLabel in Australia include the likes of Labeltopia, part of the Labelmakers group, which over Christmas ran a personalised campaign for VB beer labels on its AccurioLabel 230.