Labelexpo Americas – held in Chicago – can still turn out a pretty big crowd of converters from around the world, including Australian and New Zealand label printers who made the trip across the Pacific to see the latest and greatest label kit on display. Jake Nelson caught up with a few of them once the jetlag had worn off.
This year's Labelexpo Americas was the biggest ever, say organisers, with 487 exhibitors spread out across 19,000 square metres of floor space at Chicago's Donald E Stephens Convention Centre. "The tremendous feedback we have had from exhibitors and visitors alike at this year's Labelexpo Americas demonstrates that there is a real momentum in the industry right now, and that was reflected in the buyers' mood, with numerous sales achieved on the show floor and a strong international focus," said event director Tasha Ventimiglia.
Among the 16,413 visitors from 86 countries was a contingent from Australia and New Zealand, including representatives from around 20 supply companies such as Konica Minolta, Jet Technologies, Currie Group, Label Power, and Screen.
David Reece, sales director for Asia-Pacific at Jet Technologies, has been to Labelexpo Americas before and was happy with the local turnout this year. "I was pleasantly surprised by the number of people from Australia and New Zealand attending, in particular their optimism, their support and the high quality of their enquiries," he said. 
Jet Technologies cleans up 
Jet Technologies and its partners, including Screen GP, Flexowash, Kocher and Beck, and Asahi had a good Labelexpo experience, said Reece. "The highlight for us was the continued innovation in digital printing and finishing, and from a conventional flexo point of view, it was great to see the development of high-quality and efficient flexo photopolymer plates from our partner Asahi," he said.
At least one sale has come out of the show for Jet Technologies, with more potentially to come. "We had a positive result from the show, with one of our previous customers, Label Power Queensland, who had in the past purchased a Flexowash parts washer from us, purchasing an anilox cleaner," he said. "There was a lot of interest in Screen's L350UV+ digital inkjet presses as well."
James Malone, CEO of Label Power, invested in a Flexowash Handy 2x2 anilox cleaner, which he said was a good purchase for a number of reasons. "It takes four anilox rollers at once, uses an automated wash cycle, and has a quick cycle time, so the rollers can come direct from the MPS press and into the washer," he said. "Plus there is the great backup and service from Jet Technologies."
Two presses for Screen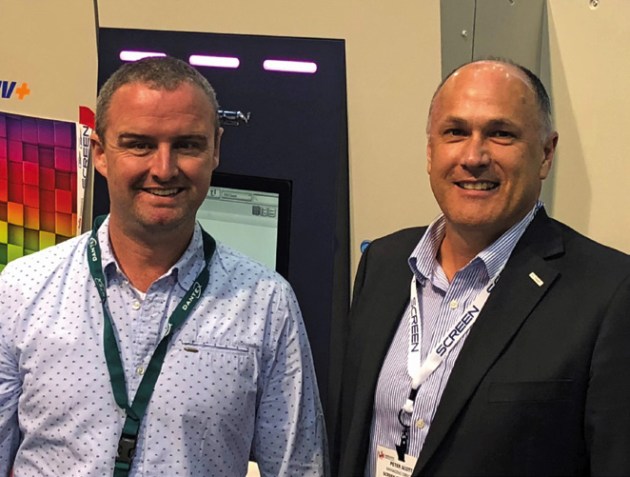 For Peter Scott, managing director of Screen GP Australia, his first Labelexpo Americas was a cause for pride in his US counterparts. "I thought Screen USA did an amazing job with their stand, which had two versions of our new L350UV+ label presses," said Scott. "It is likely we will have a couple of orders as a result of the show."
Both of the L350UV+ inkjet presses on the stand were capable of printing at 60 metres per minute in CMYK plus white and orange. According to Scott, the new orange ink expands the colour gamut by 16 percent over the previous model, and productivity is up 20 percent. "One press had the standard inkset, and the other featured our new lowmigration inks which are compliant with EuPIA, Swiss Ordinance and Nestle regulations.
"To demonstrate the print quality and resolution, as well as many label samples, we printed the entire book of Alice In Wonderland in three-point type, showing how clear and sharp the text is," he said. 
Currie Group end to end workflow
HP had one of the largest stands in Chicago this year, and Mark Daws, director of labels and packaging at Australian and New Zealand distributor Currie Group, was on hand to show off its kit. The equipment on display included the HP Indigo 20000 wide-web press, and the HP Indigo 6900 and 8000 narrow-web presses, all in-line with ABG equipment such as the Digicon Series 3 digital finishing line. "There was a lot of focus on that from local customers. It is a true digital solution – you are not putting two processes together, it is one process that simplifies a complete end-toend workflow," said Daws. According to Daws, this year's Labelexpo was a fruitful one for Currie Group. "We have sold several million dollars' worth of equipment already from the show, predominantly across HP and ABG," he said. "From a labels and packaging perspective, all of our suppliers were there – HP, Omet, ABG, Karlville, and Schober Technologies. Cron was there for CTP as well. "The Currie Group team – Jon Murray, Wayne Quayle and I – spent our time going between those suppliers."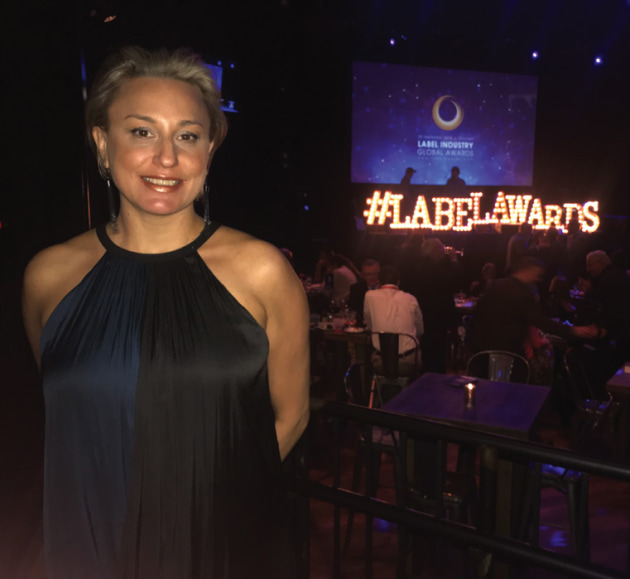 All-digital focus for Konica Minolta
At the Konica Minolta stand digital label production on the AccurioLabel 190 press was paired with digital embellishment using the MGI JetVarnish 3DW. Both were a popular attraction, according to Sue Threlfo, general manager for production and industrial print at Konica Minolta Australia. "Visitors to Labelexpo seemed to be looking at digital solutions for both printing and finishing," she said.
The AccurioLabel 190 was the cornerstone of the Konica Minolta stand. "It is a production label press suitable for both label printers and manufacturers who are interested in producing their labels in-house," said Threlfo. "With 250 installs worldwide since launch, this press is proving to be the ideal solution for many."
Another key drawcard was the MGI JetVarnish 3DW digital embellishing unit. Konica Minolta owns 40 per cent of MGI, and the machine attracted plenty of eyes to the stand. "This foil and UV varnish label embellishing solution drew huge interest from the expo visitors," said Threlfo. "The variety of jobs being printed and embellished on the stand was exceptional."
It was Threlfo's first time at Labelexpo Americas, and she believes it was well worth the trip both for herself and Konica Minolta. "We anticipate sales in the coming weeks for both the AccurioLabel 190 and the MGI 3DW," she said.
Exploring the future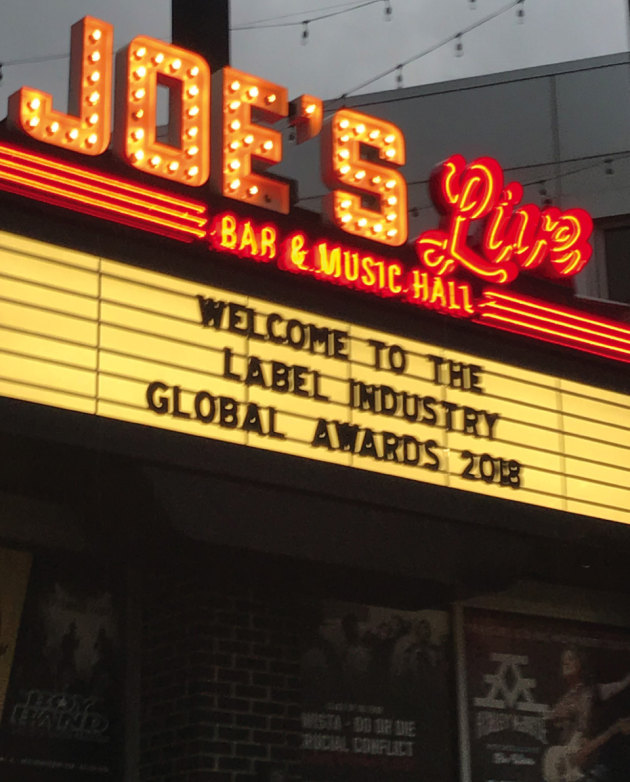 The three days of Labelexpo Americas 2018 featured plenty of breakthrough technologies, and Tasha Ventimiglia, event director, said exhibitors had upped their game for this year's show. "This year's theme, Explore your Future, really was evident, with more fascinating innovations than ever before providing even more choice for buyers, and a significant increase in exhibitors," she said. 
Epson's stand featured label presses from flagship to entry level. At the top end was the giant SurePress L-6034VW industrial UV inkjet press, designed for high-speed printing of weather and scratch-resistant labels. The L-6034VW includes features such as white ink, spot varnishing, UV curing, and automatic maintenance.
Also on display was the L-4533AW, a low-cost seven-colour press with waterbased ink aimed at new entrants into the digital label market, and the desktop ColorWorks 7500GE, designed for ondemand label printing. All of Epson's presses use its PrecisionCore micro-piezo inkjet head technology.
Durst displayed its Tau 330 RSC UV inkjet label and packaging press, which already has 10 installations in Europe. Its eight colour stations give it 95 percent coverage of the Pantone range, and it can be configured as a standalone device or paired with an Omet flexo press for a hybrid setup. 
According to Helmuth Munter, global segment manager for labels and packaging at Durst, "Small, medium, and now long runs are highly profitable with our digital systems. Thanks to a cost-effective total cost of ownership we provide, the options are virtually unlimited and open up an enormous potential for new products and services in an ever-changing market," he said. Durst label presses are distributed in Australia by Fuji Xerox. 
Equipment wasn't the only attraction at Labelexpo: Xeikon launched its new QB toner range at the show, which supersedes the QA-I and ICE toners for Xeikon 3000 series and Cheetah digital label presses and is aimed at keeping the European manufacturer ahead of regulatory changes. 
The QB toner leaves out compounds that were formerly included, and are still currently allowed. According to Trevor Crowley, sales general manager at Xeikon ANZ, Xeikon wants to make sure its toner continues to meet high sustainability and safety requirements, he says "This toner is ensuring we stay ahead of any changes or upcoming changes in compliance."