Print21 magazine: Brewtopia pivots to new markets
Custom e-commerce beverage outfit Brewtopia is growing into the wholesale market with its new Konica Minolta AccurioLabel 190 digital label print solution. Wayne Robinson reports.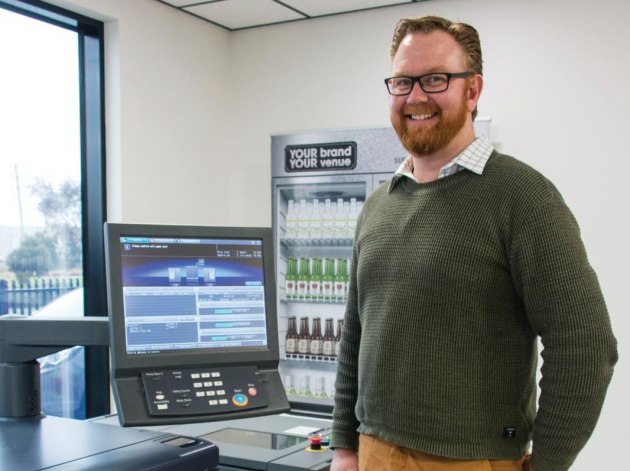 New technology really scores when it enables a business to not only do what they have been doing more efficiently or for a lower cost, but enables it to develop in new markets.
This is exactly the experience of Australia's first e-commerce drinks business with a focus on personalisation, Brewtopia, which installed a new Konica Minolta AccurioLabel 190 digital label press to bring its custom label production in-house, and is finding it is now winning work from brand owners seeking end-to-end fulfilment.
Brewtopia was relaunched just five years ago with the appointment of new directors. The Melbourne-based business claims to offer an Aussie-first: an end-to-end solution for personalised alcoholic and non-alcoholic beverages, with a fully integrated portfolio of services, including online retail, graphic design, digital printing, label application and packaging, warehousing, logistics, and compliance and licensing requirements.
"We are the only producer of personalised beverages in Australia with a full suite of drinks," says new general manager Jack Colvin.
Brewtopia offers a full suite of beverages, including premium Australian wines, craft beer, artisan cider, spring water, and gift hampers.
"Whether a client orders one or 5000 customised beverages, Brewtopia offers competitive retail prices and also manages all the complexities of alcoholic and non-alcoholic compliance and legislation requirements, including container deposit legislation and mandatory labelling compliance," says Colvin.
Until two months ago label printing was outsourced, however, the company made the decision to bring it in-house a year ago.
Colvin says, "The Brewtopia business is growing. We analysed our proposition and the development of the market, and concluded that bringing all aspects of the production chain in-house would be beneficial to us and to our clients. The trend to personalisation is growing. We have all seen major blue chip FMCG brands offer instore personalised packaging. Provided we could find the right technology, bringing printing in-house ticked all the boxes. We want to make this available to the couch consumer. From capturing the audience, the sale, all the way to fulfilment."
Brewtopia spent the best part of a year analysing what technology was available. "We went through a major due diligence programme. We worked through various solutions, we saw them in situ, we tested them, we looked at how they performed with different stocks," Colvin says.
"We were keen to use a toner-based technology, as companies we had been outsourcing to had been using toner printers, and we believed the quality was the best. We needed the printer to produce the quality that our clients had been used to. We also wanted a finishing unit that could handle short runs, variable sizes, and die cutting with no tools.
"It became clear that the Konica Minolta was the printer supplier that met our requirements. Its AccurioLabel 190 has the quality, functionality and productivity we were looking for. Its ease of use meant we did not need specialised staff, and the fact that Konica Minolta provided a turnkey solution with inline finishing, and has the service structure to support our investment, were all key factors."
Since the AccurioLabel 190 was commissioned, Brewtopia has found that it has provided the benefits the company expected for its clients – control over scheduling and quality, reducing turnaround time – and it is opening up new opportunities with the big brands.
"The new printer is enabling us to pivot in that direction," Colvin says. "The brands know that we can produce a high quality label in a short run, and on demand. The service we can now provide is helping their own marketing and promotional activities. We are now working in wholesale as well as retail. Whole new markets are opening up for us."
The AccurioLabel 190 images with CMYK at up to 1200dpi (3600dpi apparent) x 1200dpi as standard. Web width is the industry standard at 330mm, printing speed is typically 13.5 metres a minute, although this can be adjusted, and it prints on most standard label stocks, with no need for prepping or priming.
Brewtopia director Jessica Simes says, "Brewtopia now has complete control over the production process, in both scheduling and quality. What we do in providing an end-to-end solution is complex with multiple facets, particularly as we are dealing with alcohol in many cases. Our growth shows we have a great proposition for the market, and having the in-house printing is really helping to take us forward and enter new markets like prototyping, limited edition promos, fulfilment and short run requirements."
Brewtopia is a terrific story of a vision to provide a new service through new technology. The latest chapter in that story, the new AccurioLabel 190 seems to be providing an essential contribution to the development of a new business.