Xeikon introducing 7-colour label press
Xeikon will launch a new high-end seven-colour label press in its Panther portfolio: the PX30000; it says the press is to meet a need in the market and extend the company's comprehensive offering, broadening the application reach.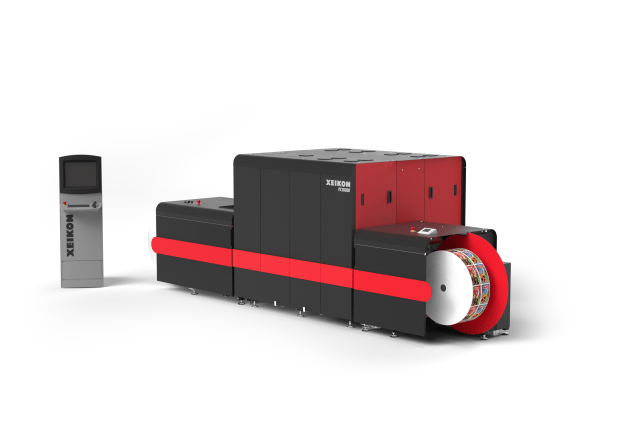 Providing high productivity levels, the Xeikon PX30000 is equipped with eight printing stations, two of which are used to achieve high opaque white layers at maximum speed. This UV inkjet label press is driven by Xeikon's X-800 digital front end, geared to maximise digital print manufacturing.
According to Xeikon, the PX30000 UV inkjet press offers a cost-effective and fast time-to-market solution for short to medium-run flexo jobs. It provides the label printer with maximum opportunities to produce the widest range of digitally printed labels with a glossy tactile look, optimum durability and high levels of resistance against scuffing and scratching.
The press is designed to appeal in particular to label printers working in the high-end markets of health and beauty, chemicals, and premium beers. The company says label printers looking for faster turnaround times, reduced production costs and lower complexity will be able to explore new business possibilities offered by digital printing. Xeikon's PX30000 is now available for demonstration at Xeikon's Global Innovation Center.
Trevor Crowley, sales general manager ANZ for Xeikon said: "The new PX30000 is targeting those digital label printers that are already in the market and want to really ramp up their capabilities with higher throughout and an extended colour gamut."
Filip Weymans, VP Marketing at Xeikon, said: "The addition of this high-end, digital production label press is an important step in the Xeikon strategy. Adding the Xeikon PX30000 to our portfolio enhances the Xeikon offering that already was the most comprehensive in the market. Label printing companies can now opt for a dry toner press or an inkjet press, for an entry-level solution or a fully geared high-end production press, from a five-colour engine up to a seven-colour engine. We are convinced that the appropriate and ideal choice a printing customer makes depends on their business strategy and their choice of end-use applications."
Weymans continued, saying: "We are recognised as a go-to trusted advisor and solutions provider. Throughout the years, Xeikon has developed a suite of the most relevant services available, supporting its customers in developing and selling new applications, helping them with the integration of digital printing within their existing environments, and also assisting them in automating their complete label production. Apart from integration capabilities, the X-800 workflow enables further automation for complete label production. Making use of its intelligent imposition algorithms to position the labels on the web can help reduce costs by optimising production times. There are no challenges too great for this powerful workflow – even the most demanding variable data jobs or labels where the track and trace functionality is required – Xeikon's X-800 workflow is unsurpassed.
"Xeikon has the long-standing expertise and deeper understanding to help label printers with all aspects of running a successful digital label print business, from choice of equipment to workflow integration and expert colour management services. Xeikon helps the label printer transform to a digital manufacturer."
The Xeikon PX30000 digital press is a versatile solution offering a range of capabilities and features. As for all Xeikon digital printing technology, overall equipment effectiveness (OEE) can be optimised using the available Xeikon Premium Services. The Xeikon PX30000 UV inkjet press is a proven press platform driven by Xeikon's X-800 workflow, which can be integrated into any existing workflow environment. For flexibility and a wider range of applications, the press has extended colour gamut capability, it comes with a choice of tow configurations – six or seven colour – and full colour management controls. With a maximum speed of 70m/min and using opaque white, the press is designed for maximum efficiency. This roll-to-roll, full rotary press prints on substrate widths up to 340mm.
Weymans said: "The addition of the Xeikon PX30000 high-end label press to our portfolio immediately gives Xeikon a broader reach. We are committed to our vision of a digital future for labels and packaging. We are the only company dedicated to a true consultative approach, offering both dry toner and inkjet technologies and therefore the most comprehensive choice of digital solutions."
The new Xeikon PX30000 is being released in Europe and North America first, and will be available in ANZ by the middle of next year.