Ball & Doggett drives a racing bargain
Irwin Racing's Team 18 has partnered with Ball & Doggett for the supply of Avery Dennison films to wrap its Supercars.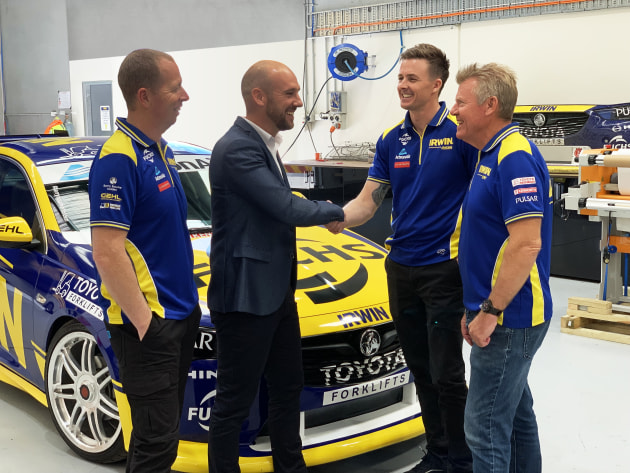 The deal for Avery Dennison Digital Cast Films will enable the substrate supplier to promote its Display & Visual range, which it says is the fastest growing segment in its portfolio. According to Leigh Hooper, national manager for Display & Visual at Ball & Doggett, the sponsorship with Irwin Racing has come at the right time for the company.
"We are very proud to partner such an exciting team under the leadership of Charlie Schwerkolt and quality experienced drivers in Mark Winterbottom and Steven Richards. Team 18 have recently announced the purchase of a second car for the 2020 season. This expansion will play a key part in them becoming a real challenger in the championship.
"This partnership provides us the opportunity to not only showcase the quality of our Avery Dennison films, but also gives our customers the chance to receive unique and exclusive experiences with Team 18. Being able to thank our customers for their loyalty is important, so this sponsorship has significant upside for us," he said.
Charlie Schwerkolt, owner of Irwin Racing, told Print21 that the new deal was an integral part of the relationship between Ball & Doggett and Team 18, as the team now vinyl wraps its vehicles rather than painting them – additionally, the printing, cutting, and laminating are all done by graphics division of the team itself.
"We've had a long association for more than ten years with Ball & Doggett and its predecessors, supplying paper and poster materials, and it was a logical next step to move to Avery Dennison wraps, which they supply.
"It's a great partnership, with high-quality product and great people to deal with. They're providing the best for us," said Schwerkolt.
Ball & Doggett will take customers to pit tours, grid walks, hot laps, driver one-on-ones, and application workshops at Team 18's Melbourne headquarters over the rest of 2019 and 2020; customers will be able to take part in special promotions for the chance to attend these events.